Reply
Topic Options
Mark Topic as New

Mark Topic as Read

Float this Topic for Current User
I have created several custom vulnerability signatures so I am familiar with the general process. I want to create a custom vuln signature based on a string but I also want to add a time signature to time attribute to that signature since it will triggering rather frequently.

Unfortunately, it appears that I can only add a time attribute combination signatures but within the combination signatures, I cannot select any of my own previously created signatures. If I use Standard signature, I can easily create a pattern match signature but I don't see the functionality to add a time attribute. Am I missing something or is what I am trying to do just not supported.

L7 Applicator
I've done this previously with 4.1 and it worked great. I haven't done it recently in 6.0.1, but I went through the motions and it seemed to work fine. You have to make 2 different signatures. The first one is your initial "standard", single signature. Then, once you've created that, you can create a completely new "combination" signature that references your first signature - and then add the time component: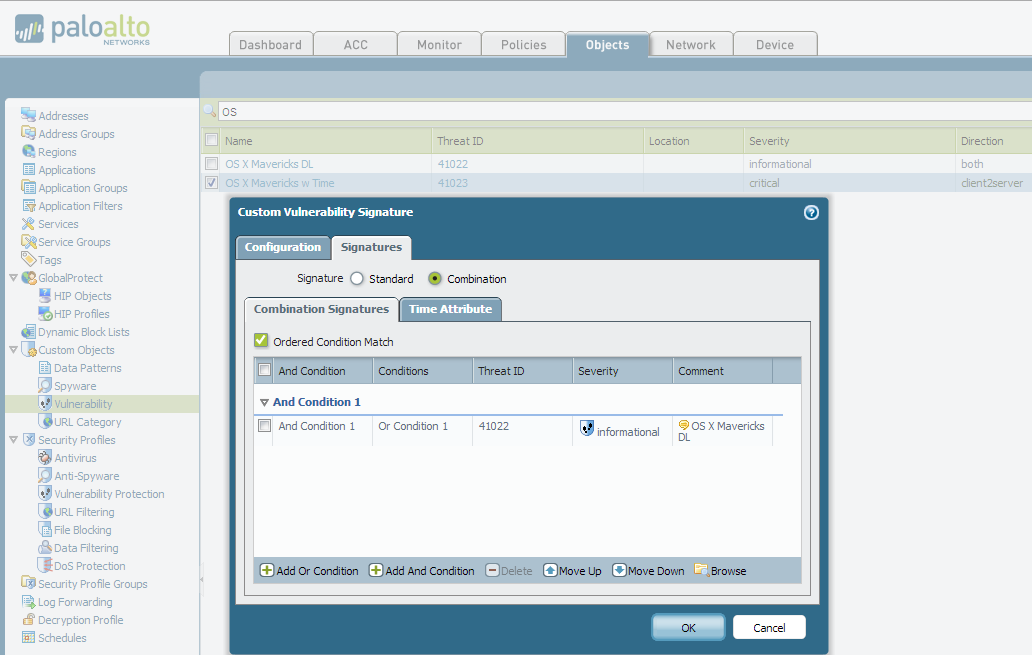 Highlighted
Re: Adding time attribute to custom vulnerability signature
Thanks. I was trying that at the Panorama level and getting this warning:

After seeing your success, I tried it at the PA device level and it worked fine. Curious. I will open a ticket with tech support on the issue. Thanks for the help.