Reply
Topic Options
Mark Topic as New

Mark Topic as Read

Float this Topic for Current User
Highlighted
Is there a way to create an application group that will dynamically add applications as they are updated?
For example, I want to create a P2P application group that gets denied. Can I create a filter that says any application that is classified as P2P with a risk of 4 or 5 should be automatically added to the group? And as updates are made to the application list, anything that matches that filter will be automatically added?
Also, can you 'select all' when filtering the apps? If I filter P2P with risk of 4 or 5, can I select all of those with a single click or do I need to go through and click 80 times?
Thanks.

L7 Applicator
This is called an "Application Filter" - and it's located under Objects / Application Filters. Here's one that shows just what you've asked... It will select all applications that are P2P with risk 4-5. Then in your policy, just reference "P2P Risk 4-5" as the application. As Palo Alto Networks adds new signatures that match your definition, they'll automatically get included in your policy.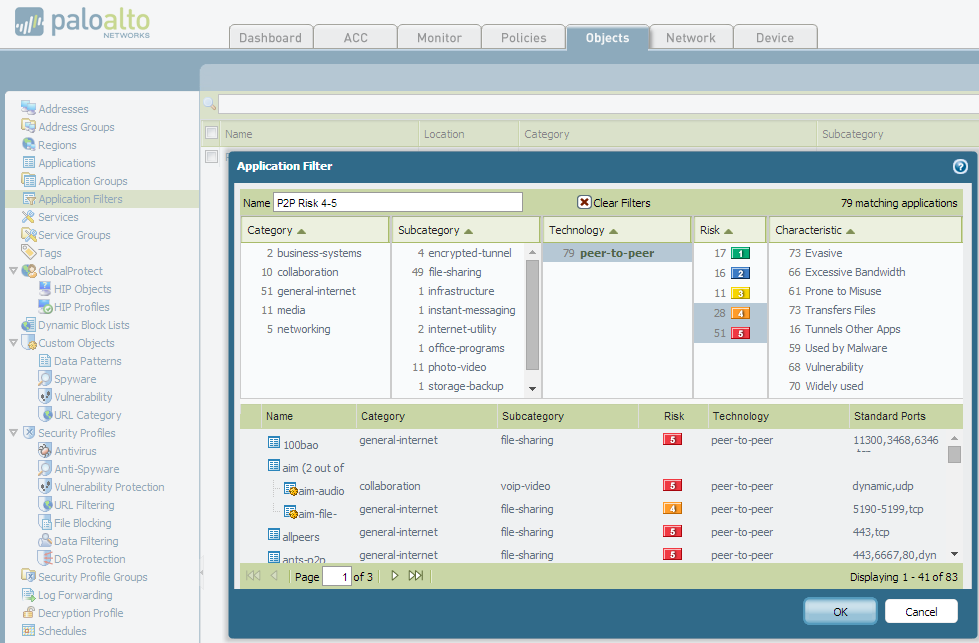 Re: Creating application groups
That's much easier than clicking 80 times.....:)
Thanks.