Reply
Topic Options
Mark Topic as New

Mark Topic as Read

Float this Topic for Current User
Highlighted
Hello,
Anyone here having the same issue? Please see the image below,
The URL that we are browsing isn't match with the Log Category.
We already tried re-downloading the whole URL PAN-DB. Also, the URL category on the cache identifies "youtube" as streaming-media.
Thank you
Regards,
hartkently

L6 Presenter
Re: Log Category and Current Category : PAN-DB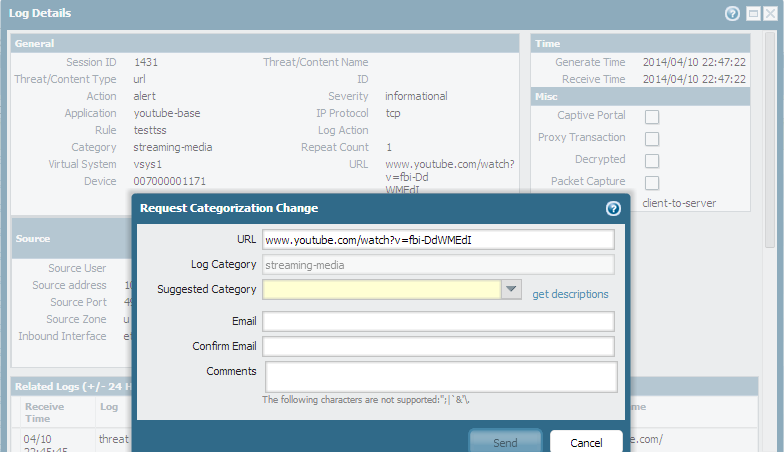 My test result
can you try again after the commands
clear url-cache all
delete url-database all
Hi Hartkently,
There are two things here - typically speaking, it is possible for the logged category to be different from the current cloud category, as a URL may have updated categories since your log was generated. When you attempt to submit a change request, we do a quick check for the current cloud category and if it is different from your logged category, we let you know in case it's already been updated to what you want to suggest. Obviously, if it is still incorrect, you can continue with your submission.
For your particular example here, we recently mis-categorized www.youtube.com/watch as "social media", as you noticed in your logs. When we noticed this error, we issued an emergency database update, which is why the cloud category no longer matches your logged category. In terms of the mistake itself, while youtube.com is part of a list of URLs that can never change categories, this did not apply to sub-domains/directories, which is how the mistake was able to propagate. In addition to updating the category, we have updated our logic to prevent changes to youtube.com and all of its sub-domains and directories.
Hope this helps,
Doris
Re: Log Category and Current Category : PAN-DB
Hello,
Thank you for the tip that you gave. just to make things certain, I also did what you've asked me and then download the latest PAN-DB update.
Thank you very much.
Regards,
Hartkently
Re: Log Category and Current Category : PAN-DB
Hi Doris,
I understand, We just checked the traffic and the logs are now identified correctly. we will monitor this and hopefully nothing comes up again.
Thank you very much for that info,
Regards,
Hartkently
Re: Log Category and Current Category : PAN-DB
Hi Hartkently,
Just to clarify, you should really never need to re-download the PAN-DB seed database. As you already know, the seed database is initially downloaded during the PAN-DB activation process, and is a collection of the top X domains in a selected region, and is used to help initiate your cache so that you don't start with an empty cache. If you choose to re-download the seed database at a future time, it will actually re-initialize your cache, which essentially means we clear your entire cache and fill it with the contents of the seed database.
If you feel that there is a need to refresh a single entry in your cache, you can always use the following CLI commands to do that, instead of sacrificing the entire cache:
clear url-cache url <URL> clears the DP cache
delete url-database url <URL> clears the MP cache
(you'll need to do both)
Hope this helps,
Doris