Reply
Topic Options
Mark Topic as New

Mark Topic as Read

Float this Topic for Current User
Today I tried to configure our PA500 firewall to make a server from our DMZ zone available for Office 365. But first I will explain our network topology.
In our company we have 2 internet lines, one for internet and the other one as backup. After this backup line we have several public IP adresses, so I want to use these IP adressen for publishing my DMZ server.
So I configured the settings, but its not working at all. The server can't get to internet and the internet can't reach the server (like a ping).
In the monitoring I see that the server can send bytes to the internet with the correct NAT IP, but doesn't recieve anything from the internet.
Everything I configured I took a screenshot and loaded it up with this post. Belacom is the backup line. Can someone help me out?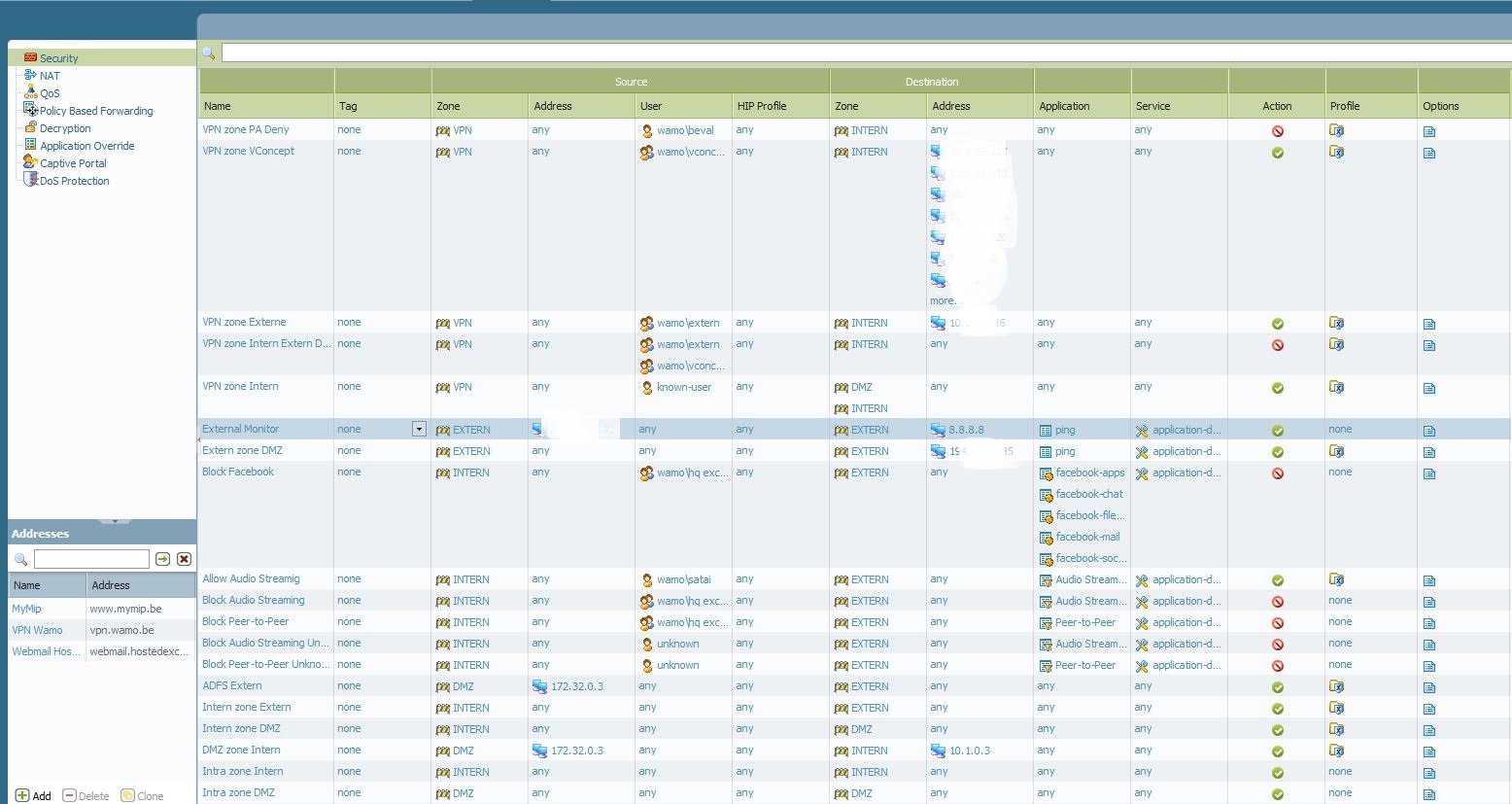 L3 Networker
Hello Zebit,
From your NAT policies, it looks like your primary ISP is on ethernet 1/3 and the secondary is ethernet 1/4. Is this correct?
I notice that your PBF policy dictates that all traffic sourced from the INTERN and DMZ zones should be forwarded out of eth1/3.
Based on your description, if you are trying to use a Public IP address given to you by the secondary ISP, then your current configurations would not work.
Problem #1
I'm assuming that your Office365 server's IP address is 172.32.0.3 and your ISP_1 public IP is 100.100.100.100 and ISP_2 public_IP is 200.200.200.200.
You have configured the 200.200.200.200 to be NAT'd to 172.32.0.3 so that when anyone on the internet pings that public IP, it would be sent to the server's private address. (NAT Policy "ADFS Intern").
When that traffic ingresses on eth1/4 for 200.200.200.200, your secondary ISP connection, the return traffic will incorrectly egress out of eth1/3 based on the configured PBF (Internet Monitor).
To fix this, you would need to configure a PBF policy with symmetric return and position it above the "Internet Monitor" policy.
Basically, this would make the firewall send responses out on the same interface that the requests had come in. Here is a document that explains this concept in greater detail:
How to Configure Symmetric Return
Problem #2
I'm assuming the "Extern zone DMZ" security policy is the one that should permit traffic from the EXTERN zone to the DMZ zone.
If that's the case, you would need to configure the source zone as EXTERN while the destination zone should be DMZ zone.
Pages 15-16 of this document explain this configuration in greater detail as well:
In the future, I'd suggest that you open a case with Support to help resolve this type of issue, but let us know if the recommendations above help to solve the problem.
Regards,
tasonibare
Re: Making server available with NAT doesn't work
Hi Tasonbare,
You understand my issue correct, I will try your sugesstions and come back to you.