Reply
Topic Options
Mark Topic as New

Mark Topic as Read

Float this Topic for Current User
Highlighted
Hi Friends,
I have 2 server hosted in lan zone and one public ip . i have configure the NAT for 1 server from outside from port 80 and its working fine. but i want access the other server from lan with public ip from port 80 but its not working showing application is undirected. please suggest.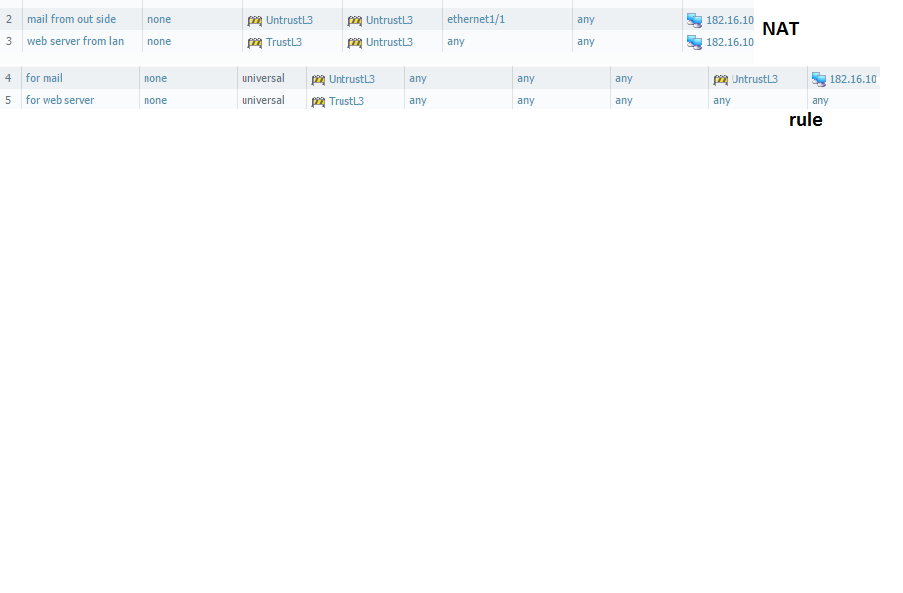 Regards
Satish
L7 Applicator
For the internal nat rule you also need to add source nat to force the reply traffic back to the firewall. Otherwise the routing is asymmetrical directly back from the server to the source instead of through the firewall. This is known as U turn or hairpin nat. See this configuration example.
Steve Puluka BSEET - IP Architect - DQE Communications (Metro Ethernet/ISP)
ACE PanOS 6; ACE PanOS 7; ASE 3.0; PSE 7.0 Foundations & Associate in Platform; Cyber Security; Data Center
Hi Steven,
Let me check and get back to you. :smileyhappy:
Regards
Satish
L0 Member
Hello,
I am new to PA firewalls. Is the U-TURN NAT really working for you sicne I have not seen anyone stating that it works. As a matter of fact I saw this link which shows it does not work. No TAC in Palo Alto is able to help me yet or state that it works or does not work. Pretty frustrting.
DNS Doctoring feature does not work.
https://knowledgebase.paloaltonetworks.com/KCSArticleDetail?id=kA10g000000ClfjCAC
But I tried the workaround along with 3 different TACs and it did not work. Really appreciate any feedback.
Adil.