Reply
Topic Options
Mark Topic as New

Mark Topic as Read

Float this Topic for Current User
Highlighted
Hello all,
I've created a custom report for gettings logs (from Database "Traffic Log") and I need the exact receive time for the entries.
Unfortunately, there is no such column to choose from. The only column that contains time information is "quarter hour" - but this is not precise enough.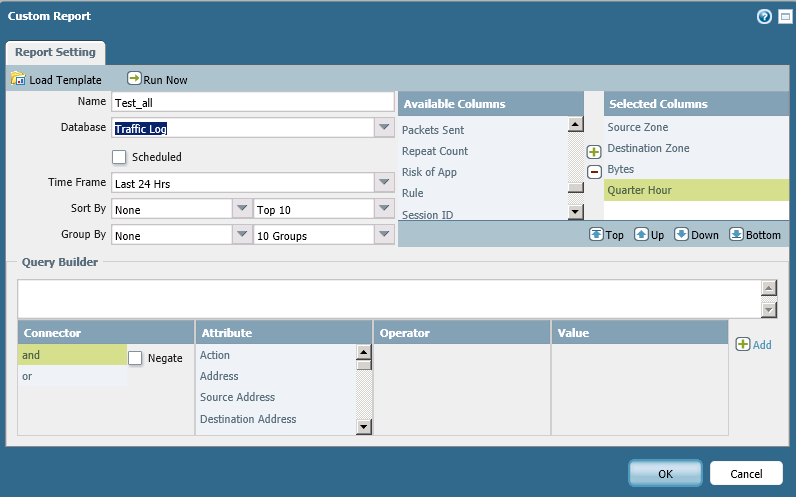 If you take a look at the traffic logs directly (no custom report), you see that there is a column with the exact receive time. So this information is definitely stored in the database.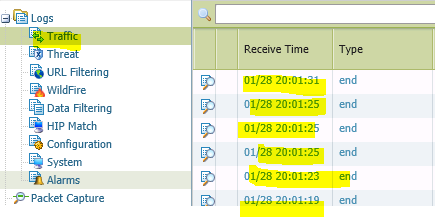 Is it possible to get out the receive time in a custom report?
Thanks in advance
Re: Receive time of logs ("Traffic Log") in a custom report
As you have found there is not an available column for 'Receive Time'. One possible workaround is to create a custom report using traffic logdb and then use 'Log View' in the report group.
Here is a sample config:
A email scheduler profile can be configured to send report-group off the device. This may not be ideal, but it should show the timestamp in the generated report pdf.
-Stefan
Re: Receive time of logs ("Traffic Log") in a custom report
Thanks for your message, Stefan.
The problem is, that I need to create a Excel file via .NET (C#). So I need to get the information via the XML REST API (not via a PDF file).
Do you know if there is a workaround for that problem?
Hi Gerold,
I am not aware of a way to export the log view information from the API.
Beginning in PanOS 5.0 the logs can be exported via API with 'type=log&log-type=traffic', then the xml returned could be transformed into csv.
If you are using pre 5.0, perhaps you could utilize the 'scp export log traffic' option. Here is an example:
scp export log traffic start-time equal 2013/01/12@00:00:00 end-time equal 2013/01/26@00:00:00 to root@172.18.32.143:/root/logbackup/logger.csv
- Stefan
Re: Receive time of logs ("Traffic Log") in a custom report
Hi Stefan,
that's exactly what I was looking for (fortunately, we have upgraded our firewall to version 5).
Once again, thanks for your answer.
Best regards,
Gerold