Reply
Topic Options
Mark Topic as New

Mark Topic as Read

Float this Topic for Current User
Highlighted
(Think I know the answer to this already but...)
Panorama 4.1.14
We have a NAS that I would like to push automated exports to from Panorama. I would like to ftp export to a specific path (we don't use user Home paths) but can't seem to do it. Only the hostname is allowed. I gather SCP via the CLI would allow me to do this but I think not in an automated fashion. I've tried the same format as per SCP but it doesn't work. Anyone else backup using scheduled exports from Panorama to a NAS.
Thanks,


L7 Applicator
You are correct in thinking that will not work. As for now, there is no feature that supports the URI path on the FTP export.
You can use CLI for that, but as you mention it is not automated and you would need to use a script. I can see value in something like this, as the path might be different for each firewall you have even though the same user is configured on all firewalls (or Panoramas).
I'd recommend submitting a feature request through your account team to get something like that added. You may also want to check into the XML API that is available. You'd need to use an external server to run the script, but it may be a way around this for now. The only other thing I can think of is to create a symlink on the server for that directory, so when your 'paloadmin' account logs in it can copy the tgz locally but it will reside on the target directory.
Hope this helps,
Greg
L7 Applicator
Re: Scheduled Backups from Panorama to [location]
Just as an FYI, PANOS 5.0.x for Panorama adds the functionality for FTP with path & SCP in the GUI as well: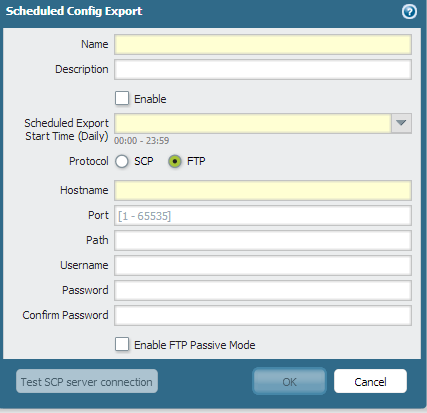 Re: Scheduled Backups from Panorama to [location]
Thanks both for the confirmation and for the extra info. I suppose I should soon bite the bullet and upgrade to 5.
For the meantime I have set up my FTP user's homes directory to route to my required location. Not pretty, but it will do for now.