Reply
Topic Options
Mark Topic as New

Mark Topic as Read

Float this Topic for Current User
Highlighted
I need to know if there is any report/graf in PA that shows the throughput peak, simultaneus session peak, in a custom time period. This would be great for sizing equipment after analizing the traffic of a costumer during some days. It will be very usefull to know how are you using your equipment and the grow prosibilities you have.
I have been looking in PA reports and found no information about throuput, session, cpd usage peaks.
Thanks in advance for your help.
Albert

L6 Presenter
I think there would be some custom report you should be able to setup to get these figures but I guess you want them more in realtime?
Using netflow export could be one way to achieve this, otherwise I think snmp is the way to go (device -> setup -> operations). The PAN-MIB modules are available at the Technical Documentation page here at support.paloaltonetworks.com.
In PAN-COMMON-MIB.my you have stuff such as (shortened):
-- Session
panSessionUtilization OBJECT-TYPE
DESCRIPTION
"Session table utilization percentage. Values should
be between 0 and 100."
panSessionMax OBJECT-TYPE
DESCRIPTION
"Total number of sessions supported."
panSessionActive OBJECT-TYPE
DESCRIPTION
"Total number of active sessions."
panSessionActiveTcp OBJECT-TYPE
DESCRIPTION
"Total number of active TCP sessions."
panSessionActiveUdp OBJECT-TYPE
DESCRIPTION
"Total number of active UDP sessions."
panSessionActiveICMP OBJECT-TYPE
DESCRIPTION
"Total number of active ICMP sessions."
Once you have the utilization over time you can check the datasheets to select a proper hardware depending on wallet size and stuff like that =)
Thanks for the answer, but what i really want to know if there is any historic of the throughput, sessions and cpu usage.
I don't know if i have a PAN device connected in tap mode during 1 week and i want to know the maximum concurrent sessions, througput or cpu usage it had during this week. I could no find something like that in custom reports. Any idea?
Thanks in advance.
Not applicable
You might consider using SNMP / Cacti for that, maybe not the answer you were looking for, but IMO those are ideal for this kind of monitoring. That's what I personally use.
L4 Transporter
We are using PRTG for long term monitoring cpu, bandwidth, sessions etc. of our PA boxes. I can highly recommend PRTG very easy to setup and use also for netflow data exports and all kind of other stuff including xml API to talk to PA.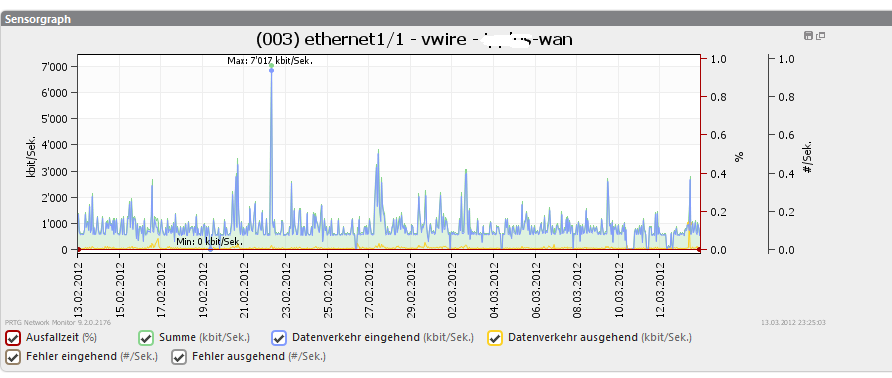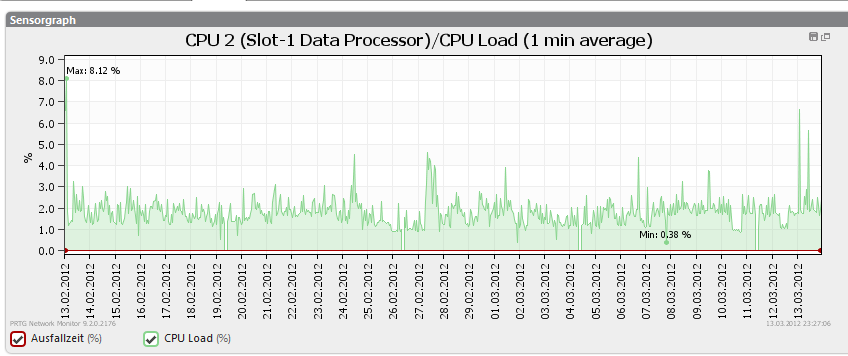 Roland