Reply
Topic Options
Mark Topic as New

Mark Topic as Read

Float this Topic for Current User
I have downloaded and installed the threat prevention license, configured daily download of antivirus and the other downloads, created security profiles and added them to my security profiles. Everything is working except for the antivirus, its downloading and installing the definitions every day but I am not getting any information in my threat monitor for antivirus. I don't think I missed anything but let me know if anyone has any ideas.
Highlighted
It collecting maleware and vulnerability data just fine it the antivirus portion of the threat prevention that isn't showing anything I don't think the link you gave me will help me to assure that my antivirus configuration is correct and working.
Highlighted
Opps - dorry for misunderstanding.
What about Monitor>System logs close to time when update of AV definition should be picked up?
Did You try to manually upload AV update?
What version of PAN are You using?
Please share with us screenshot of Dynamic Update
Ragards
Slawek
Highlighted
My PA version is 6.1.1. Its downloading and installing just fine it just now showing any data in the threat monitor
Highlighted
Hi
what about Your security rules - does it have AV profile atached?
something like that: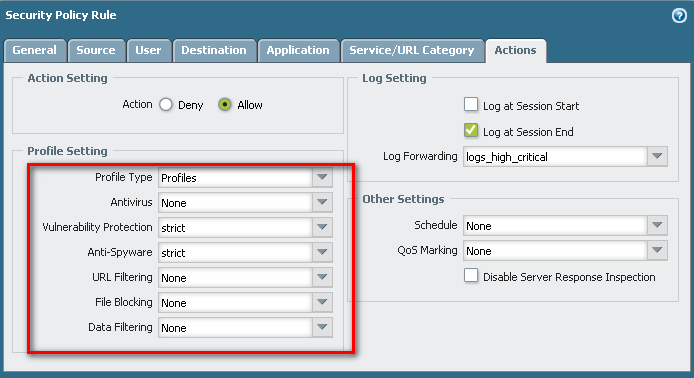 in my example there is None - but You must chose one.
Regards
Slawek
Highlighted
Yes I have them created and added to my security policies
Highlighted
Lets do a test
Please try to dwonload http://www.eicar.org/download/eicar.com
If You really have proper configuration of AV profile atached to Your security polisy that allow Your computer to get internet access this Eicar file should be blocked
Please atache Your session detail with atempt to download Eicar file. My is: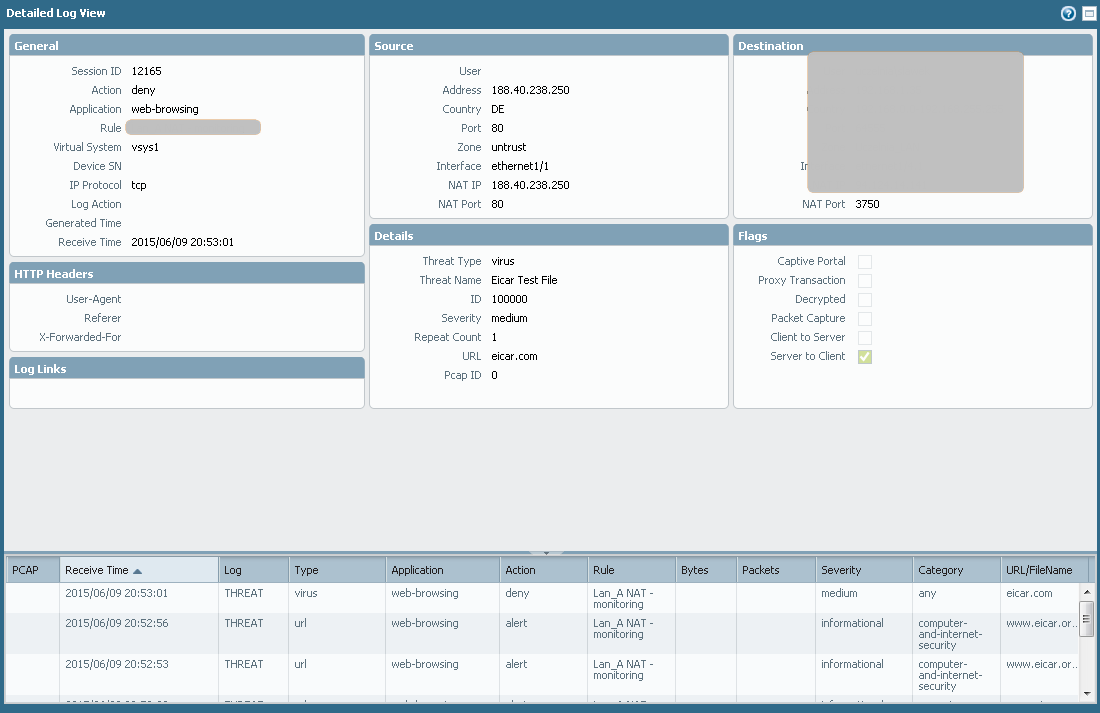 Highlighted
I did the testing and confirmed with the PA service desk that it is configured correctly but still is not working correctly
Highlighted
L4 Transporter
Slawek,
Your screen print for the sample rule should have an Antivirus profile that blocks traffic. Like below:
Profile view:
Just saw it was missing in your example and may have been an oversight on your part. Hopefully this helps.
Phil