Reply
Topic Options
Mark Topic as New

Mark Topic as Read

Float this Topic for Current User
Highlighted
Hi all,
Having a paloalto with multiple VR and subnet overlapping ( having multiple interfaces / Sub witth same subnet).
EX:
Int1 - IP: 10.1.1.1/24 - VR1
Int2 - IP: 10.1.1.1/24 - VR2
.....
It works but does anybody knoes how:
For management services, specify one VR or another. You can choose per IP but not per VR / Interface ?
For making a ping in cli, specify as argument which is the source VR ? Because you can specify source IP but not VR.
Thx for your help.
Rgds
V.
How did you configure the interfaces ?
both sub ? because with layer3 ,2 different interfaces with 2 different VR's commit gives error.
L3 Networker
Nice catch Vince, it looks like you cannot tie the ping to a source interface. It "looks" like you should when you consider the ping options:
ping
+ bypass-routing Bypass routing table, use specified interface
But the bypass-routing allows only 'yes' or 'no' as it's arguments, not a source interface. Bug? Feature? I don't know, but it would be useful if you could. :smileyplain:
Looks like this has been overseen by PA and you should contact your SE to get this fixed (most likely through a feature request).
The CLI docs for ping says:
> bypass-routing — Sends the ping request directly to the host on a direct attached network, bypassing usual routing table
> count — Specifies the number of ping requests to be sent (1-2,000,000,000)
> do-not-fragment — Prevents packet fragmentation by use of the do-not-fragment bit in the packet's IP header
> inet6 — Specifies that the ping packets will use IP version 6
> interval — Specifies how often the ping packets are sent (0 to 2000000000 seconds)
> no-resolve — Provides IP address only without resolving to hostnames
> pattern — Specifies a custom string to include in the ping request (you can specify up to 12 padding bytes to fill out the packet that is sent as an aid in diagnosing data-dependent problems)
> size — Specifies the size of the ping packets (0-65468 bytes)
> source — Specifies the source IP address for the ping command
> tos — Specifies the type of service (TOS) treatment for the packets by way of the TOS bit for the IP header in the ping packet (1-255)
> ttl — Specifies the time-to-live (TTL) value for the ping packet (IPv6 hop-limit value) (0-255 hops)
> verbose — Requests complete details of the ping request.
* host — Specifies the host name or IP address of the remote host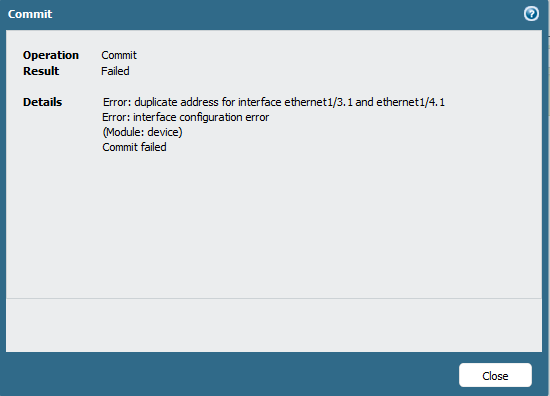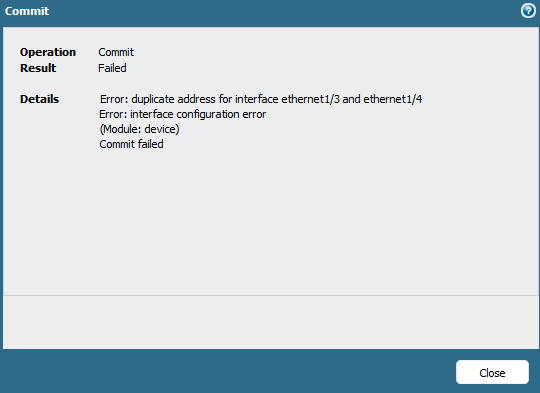 I can somewhat understand why it doesnt work for different vrouters within the same vsys, but why doesnt it work for different vsys?
Isnt the point of using a vsys to be able to segment the hardware into partitions where each partition doesnt care about the others?
That is a common usecase is if you have several customers where each will manage their own VSYS. In this case it would suck big time if customer2 cannot use 10.0.0.1/30 because customer1 (on a different vsys) has already assigned this to one of their interfaces...
Thx all for your answer. I am working on validation archie. I bypass this limitation by fixing different IP for each Pa's interfaces. But of course it's not really usefull.
Mean using different VR doesn't mean fully independant routing table .... :-(
V.