Reply
Topic Options
Mark Topic as New

Mark Topic as Read

Float this Topic for Current User
Highlighted
Hi,
We want all policies option log forward as syslog.Can we make this for all policies at one time or shoul we go to every policy option to select syslog. There are many policies.
Thanks.
L5 Sessionator
Re: is this possible for syslog
Hi,
Under Device tab--> server profiles---> syslog
you create a syslog server profile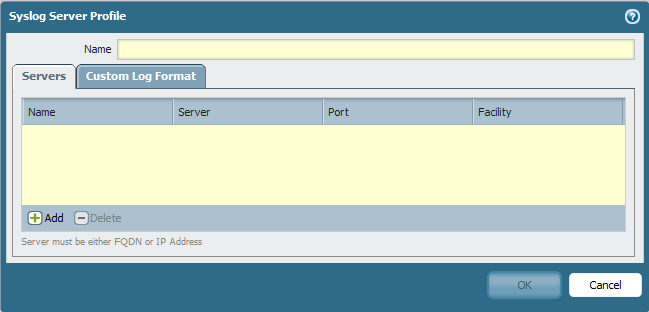 Then you go to log forwarding option under
Objects tab--> log forwarding
Then choose that profile in the log forwarding profile for the logs you want forwarded to the syslog

This will allow you to forward the traffic logs for all the severity and if you want you can forward it for all the threat logs or the needs threat logs.
Let us know if this helps.
Thank you
mbutt

L6 Presenter
Hi,
If you want to forward all the traffic logs then you have to apply the log forwarding profile to all the security policies, there is no other way. A quick way of doing this would be to do it via appending changes to the XML config via XML editor and then re importing the config back (its a hardway but cannot think of any better solution).
Thanks,
Sandeep T
Re: is this possible for syslog
Hi mbutt,
You mean when we made this setting we do not need to go to every policy and select forward and syslog from options?
Because this setting did not work for us.if you are sure we'll chek our config.
Re: is this possible for syslog
Hi Sandeep,
Yes this is what I want.I think this answer looks true.if no other way.Thank you so much.