Article Options
Mark as New

Mark as Read

Bookmark

Subscribe

Email to a Friend
Printer Friendly Page
Issue
After upgrading to PAN-OS 6.0, the following commit warning appears:
No GlobalProtect portal license:
vsys1 portal "GlobalProtect Portal" config "GlobalProtect Client" modify gateways cutoff time will not take effect.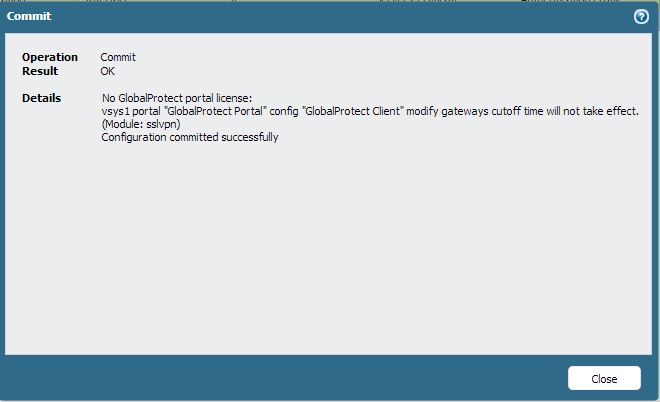 Since the message is a warning, the commit does not fail.
Cause
The warning will occur if the GlobalProtect configuration for Cutoff Time value is 0 or any modified value other than 5. The Gateway Cutoff Time is the amount of time (in seconds) the GlobalProtect Agent will wait for the gateway to respond, before connecting to the best gateway. The agent will attempt to connect to the gateways that responded within the specified Cutoff Time.
Resolution
Go to Network > GlobalProtect > Portal and select the appropriate portal. Go to the Client Configuration tab:

Click the appropriate client configuration and go to the Gateways tab to access the Cutoff Time field, as shown below:

Delete the value in Cutoff Time to blank. The value of "5 (0 -10)" will display in the field using either option in grey by default. Click OK.

Commit the changes and the warning should no longer appear.

owner: dtickoo
Find more articles tagged with: