Reply
Topic Options
Mark Topic as New

Mark Topic as Read

Float this Topic for Current User
I have a need for our employees to use LDAP in the authentication profile for VPN connectivity, but I also have outside third parties that need remote VPN connectivity as well. I want them to use local database user accounts. How can I do this? It seems that a given portal can only use 1 authentication profile type.
I only have 1 external interface with 1 IP address assigned. Is the solution to use loopback interface?
Thanks,
Ken
L3 Networker
Hello Kkrause

Authentication profiles can be combined in an authentication sequence. If a user is not found on one of the LDAP servers in the first authentication profile it will attempt the next one, which should result in a successful authentication attempt as a whole on the firewall. This is configured under Device > Authentication Sequence: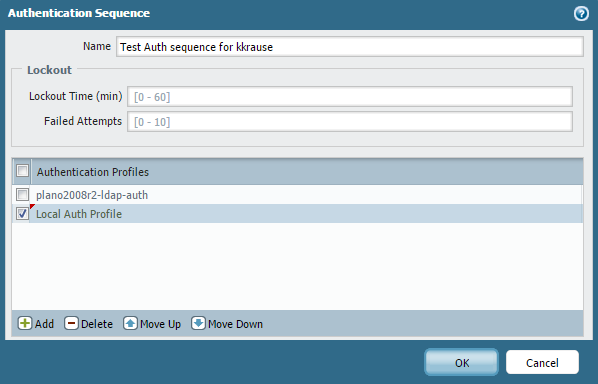 This sequence can now be used for any purpose, such as Global Protect authentication: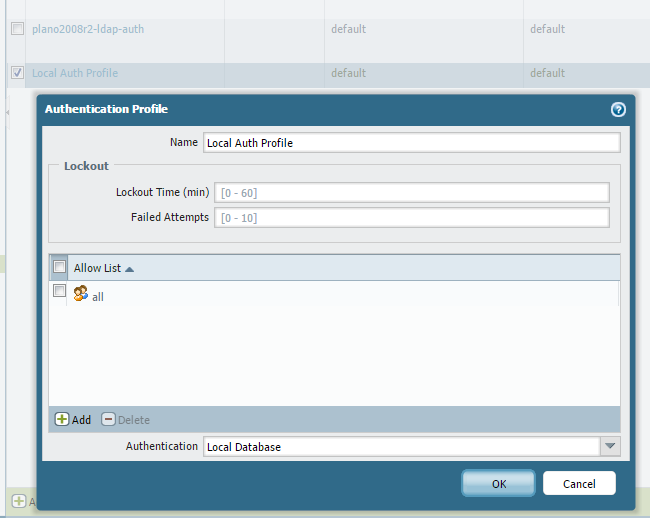 Hope that answers your question.
Regards
Khan
Note: Please mark any correct or helpful reply.

Thanks for the response. I implemented the Authentication Sequence and I can see in my logs that the VPN authentication attempt is occurring on both the local profile and the LDAP profile. However I have a username/password issue for this particular user account that I need to resolve. I'm absolutely 100% sure that the username and password I'm testing with is correct and the account is enabled....so I'll check again :smileyhappy:
Thanks for the response and additional documentation. It seems that the Authentication Sequence will take care of my needs.
Hi KKrause,
Its top-down approach, first it check first method of authentication, if it doesnt authenticate than it go to next one. Let me know if this helps.
Regards,
Hardik Shah
I found my password problem. I had changed the Portal to use Auth Sequence but not the gateway. Once I put that in place I can now VPN with my AD users and with my local database users. Oh, the joy of learning a new platform!
Thanks to all for the help.