Hi
could you confirm me, if the tagging DSCP is not flushed via the Palo Alto.
I need to use an avaya VOIP solution and a dscp tag 46 is added to the packet.
thank's
1 ACCEPTED SOLUTION
Hello Sir,
Packet Marking/Rewriting :
The PAN-OS QoS module is application centric and packets are forwarded to a class/queue based on the application, user and the type of traffic, but not based on IP precedence or DSCP bits. However if an upstream device marks the DSCP bits, PAN-OS maintains those bits as is. PAN-OS provides the flexibility to mark the DSCP or IP precedence bits in the packet to facilitate classification in downstream nodes. This functionality is decoupled from the QoS module, whether or not QoS is configured, you can still configure the system to mark certain flows. The configuration of which is in the options settings of the security policy rule.
Example: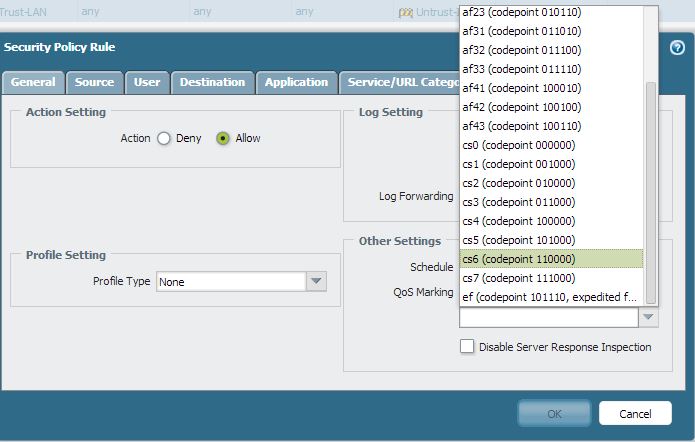 Please follow below mentioned doc for more detail information.
Hope this helps.
Thanks