My attempt to delete a cloud NGFW instance is stuck. This was a standalone tenant account that i upgraded to an AWS administrator account and introduced AWS FMS to the mix. The issue is this.
1. When you upgrade a standalone tenant account to an admin account for AWS FMS onboarding, deleting the existing/newly created (?) NGFW resource goes for a whack.
2. After waiting for an hour, i ended up deleting the stackset and the endpoint from my account thinking i need to clean up my account before the ngfw firewall resource will be cleaned up.
3. I even revoked the admin access for my AWS account to make sure everything is clean from my side and then upgraded my account to administrator account again to try set things right. But no luck!
4. The one thing that i noticed is that if i get to the "Firewall Settings" page, i get an error "Account XXXX does not exist as a member".
5. I cannot add another AWS account now since the account is already onboarded (and i get a prompt popup mentioning the same)
Somewhere, a disconnect/access permission issue makes it harder for the ngfw resources to get stuck in deleting state.
2 ACCEPTED SOLUTIONS
Sounds good. That AwsServiceLinkRole was controlled by AWS FMS, so you may not want to manually deleting it. Regarding your PaloAlto FW service, your account was reset back to init state, since you already cleaned up the role stack, you need do following to start able to deploy firewall again.
1. Go to Account Page, download the CFT and run it.
2. From PaloAlto SAAS UI User page, add LocalFirewall Admin and LocalRuleStack Admin role back to the Tenant Admin user.

Then you should be ok.
Hi @MWhittaker
Greetings from Palo Alto Networks!
To unsubscribe please navigate to AWS Marketplace > Manage Subscriptions > Palo Alto Networks Cloud NGFW.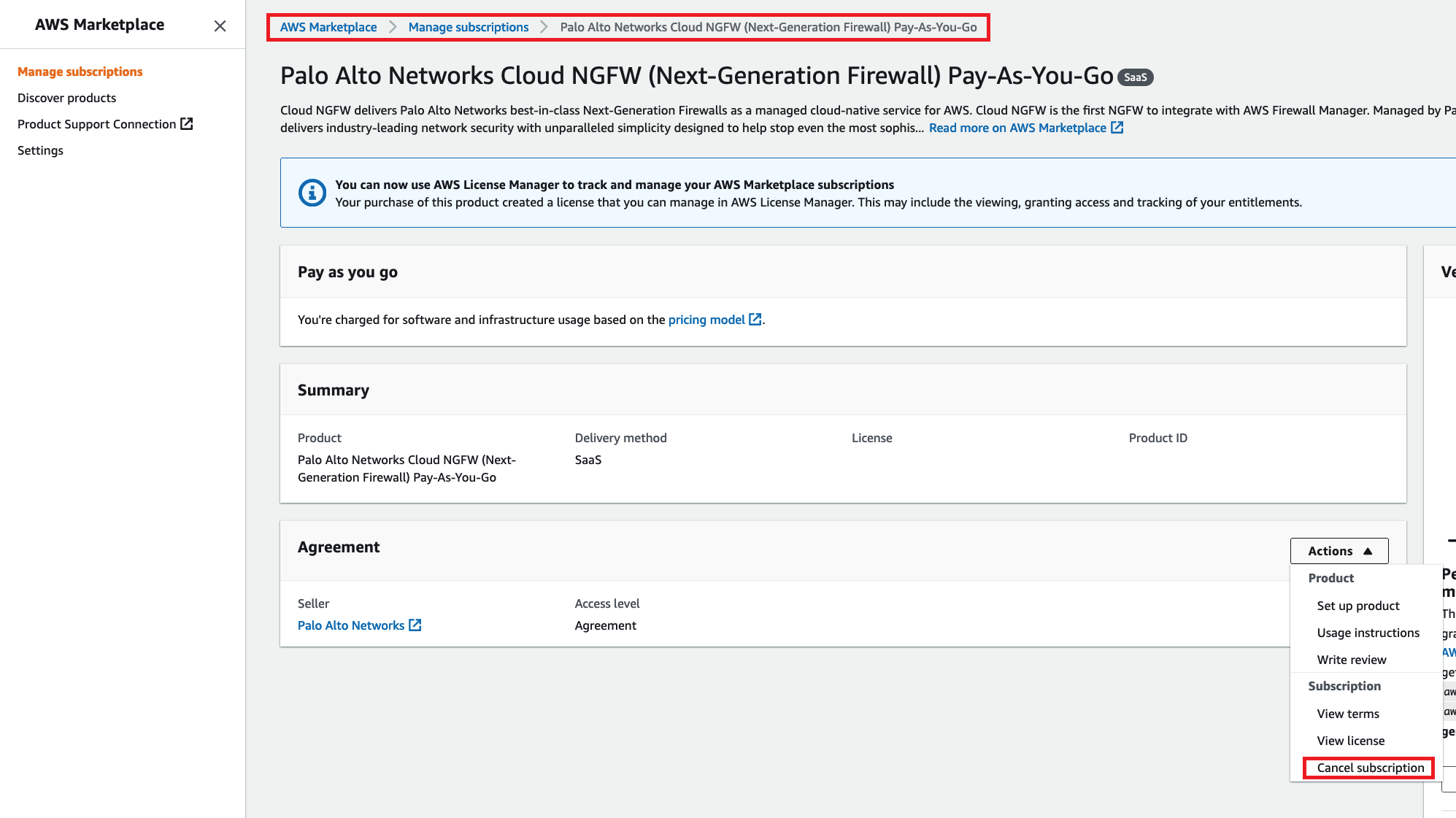 Regards,
Edison K Benny
Product specialist
Palo Alto Networks
https://live.paloaltonetworks.com/t5/cloud-ngfw-help-center/ct-p/Cloud_NGFW
*Don't forget to accept the solution provided!*