Error "COM Surrogate has Stopped Working" After installation Traps Endppoint
Hello,
I Have an issue after installation Traps in some PC, 4 from 12 PC have message error "COM Surrogate has Stopped Working" like below :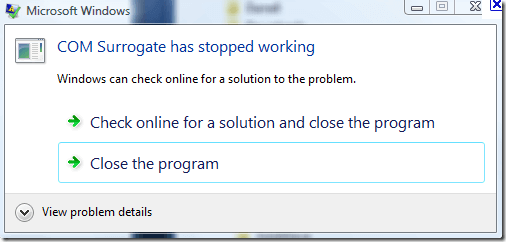 On ESM Server, i have 2 Policy :
1. Prevent all Malware detection from Wildfire
2. Notification all Malware detection
all new PC after installation, they put in Policy number 2, after 3 days we change it to Policy Number 1.
in Notification Action, Traps will not blocking the endpoint, and on security event i dont see prevention from exploit for this PC. Why this error still happen? Because, after im trying to uninstall Traps, the PC running well again.
Any sugestion for this Issue?
i just trying to solved this issue with following this web : https://thebackroomtech.com/2010/08/27/fix-com-surrogate-has-stopped-working-in-windows-7/
but after restrart, PC has blank view and can solved with reinstall the PC 😄
Thank You.
Best Regard,
RCA