DNS Proxy inheritance source
I want all devices on one of my interfaces to use my DNS servers, regardless of their configuration. Seems pretty simple, but I'm stuck.
I can edit and OK/OK out of the DNS proxy dialogs (PANOS 4.1.2), but commit fails with "Inheritance source needs to be specified."
The only option I have for "Inheritance source" is "None." I can only choose "Inherited" for "Primary." Where do inheritance sources come from? DHCP? I don't currently have the firewall acting as a DHCP server.
Inherited sources are available if your PAN FW is set up as DHCP client. If your IP address is received from the ISP then your PAN FW would receive a DNS entry from there too and this then becomes the inheritance source. Hope this helps.
Hi Graves,
The thing about the DNS proxy config is that if the inheritance source is 'none' then you must supply your own primary server (and optionally a secondary). It isn't obvious from the GUI, but you can type the IPs in those fields.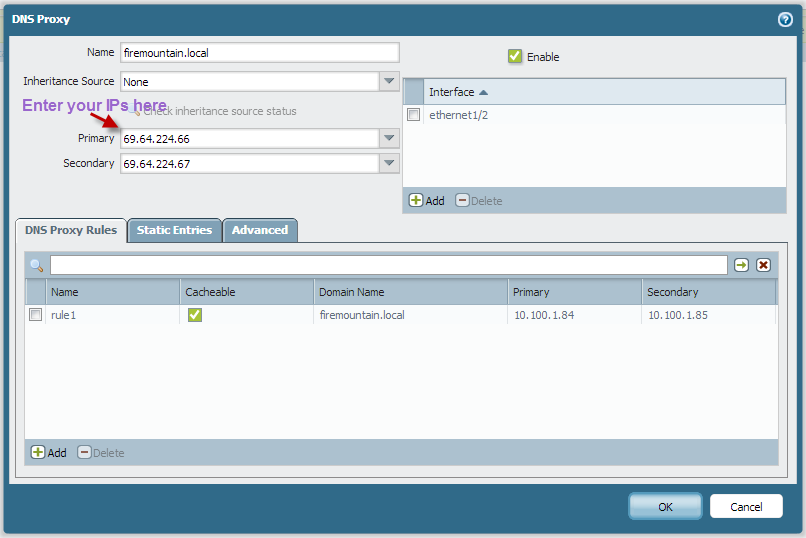 I have encountered the same issue and I found the problem is when the inheritance source = "none", you must specify both primary and secondary DNS server IP, or the one that do not have DNS Server IP must set to "none" instead of "inherited" because when you set to inherited but the inheritance source is none, it will have reference fail issue, that why it fail the commit.
Someone who is eager to learn more.
😃