How to block .enc file types
In light of the recent security announcement regarding GameOver Zeus, does anyone know how to block .enc type files under FileBlocking?
This is not currently an option. Please contact your sales team to place a feature request.
Hello DouglasM.Shrier-LFCC,
Although I see some encrypted file types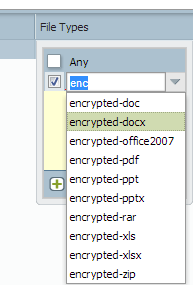 File type extension with enc is seen when file is encrypted using UUencoding technology. If this is exactly what you are looking then we can request a feature for this for file type to be added.
Thanks