Hey there --
So this is an odd thing that's probably it simple fix.. hoping anyway. We have 99% of our PCs on the same subnet and domain, however several of these machines are owned by an outside company and are "borrowing" our internet link. They are in their own workgroup (not on our domain), but share our address space (192.168.1.x/24).
I have an OpenInternet policy that allows users in a specific domain security group full access to the internet; and I have another policy (LimitedInternet) that has strict URL filtering for users not in that group. My question -- is there a way to allow those workgroup computers (either by workgroup or machine name) access to the OpenInternet policy?
Thanks!
-- michael~
1 ACCEPTED SOLUTION
Hello Sir,
As you have 99% of the traffic from domain users, So, any non-domain traffic the PA will not be unable to correlate user <-> ip, then it will treated as "unknown" in the user field.
You can use the "unknown" user as an object for a Deny/strict policy rule.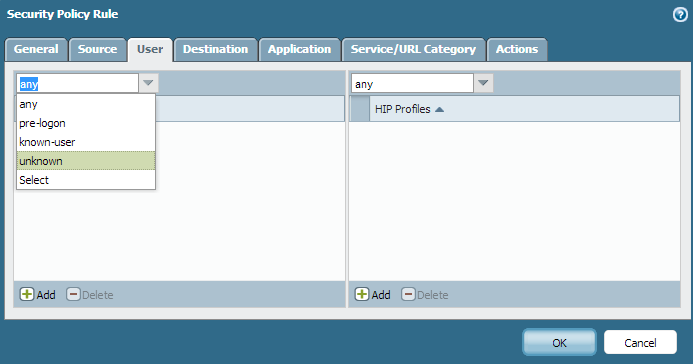 Thanks