where is stats-dump refer to the following logdb-quota?
Hello~,
I feel like that When do export stats-dump file, stats-dump doesn't refer to original traffic log.
what do you all think about that?
it depends on customer network size until traffic full.
Traffic Logs have stored only for two days.
Related logs more store logs than traffic log in ACC.
Probably getting condensed version but you can make it more granular by expanding the dates as shown below. I believe default behavior is 7 days
admin@PA200>scp export stats-dump start-time equal 2012/08/01@00:00:00 end-time equal2012/08/22@00:00:00 to user@remotehost:/statsdump_123.tar.gz
actually, I have known that
but,,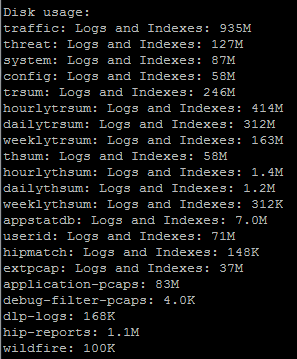 we can see disk quota about kind of log.
I guess that when stats-dump command, stats dump use trsum, thsum, appstatdb
when I see avr report, stats-dump doesn't need to refer to original traffic logs in my opinion
ACC tab is similar to avr
I am confused
What do you think about that?