How to get PA-200 Split Tunneling Internet traffic only logs to forward to Panorama?
I have split tunneling setup on my PA-200. I have the logs being forwarded to Panorama. I would only like the logs from the Internet traffic to be forwarded to Panorama.
I don't want the VPN tunnel traffic logs to be sent to Panorama.
I have three security policies.
Default Outbound - Policy for split tunnel Internet traffic.
VPN Outbound - Outbound VPN traffic.
VPN Inbound - Inbound VPN traffic.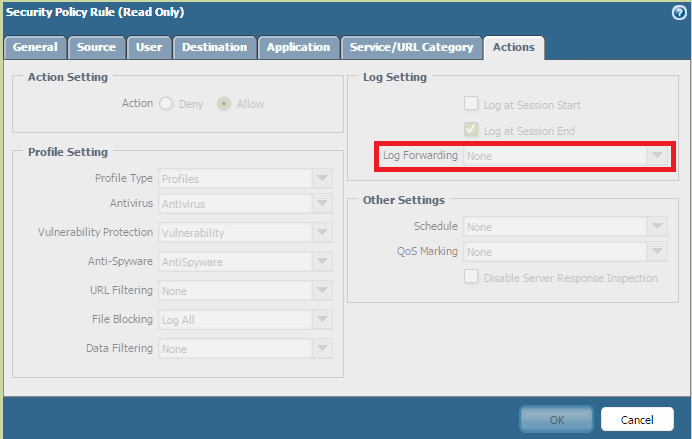 I thought if I set Log Forwarding to "none" for my "VPN Outbound" and "VPN Inbound" policies and set Log forwarding to "Panorama" for Default Outbound Policy, I would only see Internet traffic in my logs.
I am stilling see vpn traffic in my logs. Is there something else I am missing?
The changes sound correct. Have you committed the changes on both Panorama and the device?
Steve Puluka BSEET - IP Architect - DQE Communications (Metro Ethernet/ISP)
ACE PanOS 6; ACE PanOS 7; ASE 3.0; PSE 7.0 Foundations & Associate in Platform; Cyber Security; Data Center
Mike
From the logs, check if the packets are matching the exact security rule. and verify this security rule has the correct log forwarding profile settings