Anyone else seeing this one?
On both my firewall installations (2020 HA pair and 3020 standalone), the last two content updates (the failed one 473 and the replacement 474) are failing to complete, according to the job log, vis-a-vis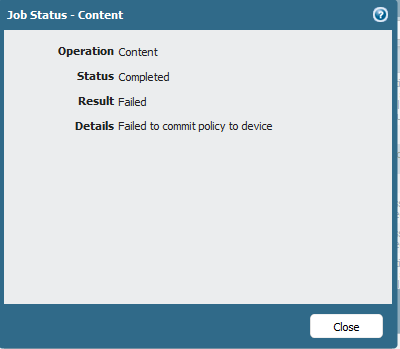 Yet the relevant content update shows as "installed" in the dynamic updates page.
Is anyone else seeing this? Or am I the only one who compulsively watches the install logs for content updates to make sure they work?
Thanks
1 ACCEPTED SOLUTION
> What PANOS are you using?
I have one set (2020 HA cluster) on version 5 (5.0.11) and another (3020 standalone) on version 6 (6.0.2). I don't get upgrade windows very often, so I'm a bit behind - and I don't want to stress the already overworked 2020's by upping them to version 6 with its continued additional feature load on a management plane which can't keep up.
> I'm doing the same ... but I'm thinking that is it useful
I believe I found the solution to my problem last night (I'll have to wait for next week's content update to be 100% sure) - I had to make a config change for another, unrelated situation - and the commit failed.
An application which I had in a defined application group apparently just ceased to exist - and the config commit was failing because of that.
Part of the virus/content upgrade involves re-committing the active config to the device - and I think that is what was causing my upgrades to report an error.
I'll check the next content update (I apply them manually because I've been bitten - badly - in the past by allowing automatic content updates to be done without oversight/vetting) and post a reply here I turn out to be right.