My current setup at home consists of a comcast modem - PA-200 - linksys wireless router. For this setup, I have the PA in vwire connected to the modem and my wireless router is performing DHCP.
Last night I attempted to change my setup and took down my network for a couple of hours.
I'd like to setup my wireless router as an access point, and configure the PA-200 as a DHCP server. I'm having trouble figuring out how I would create zones and virtual routers to route between the networks.
Below is a diagram on how I imagine it would be set up. I just don't have the experience with PA yet to accomplish it.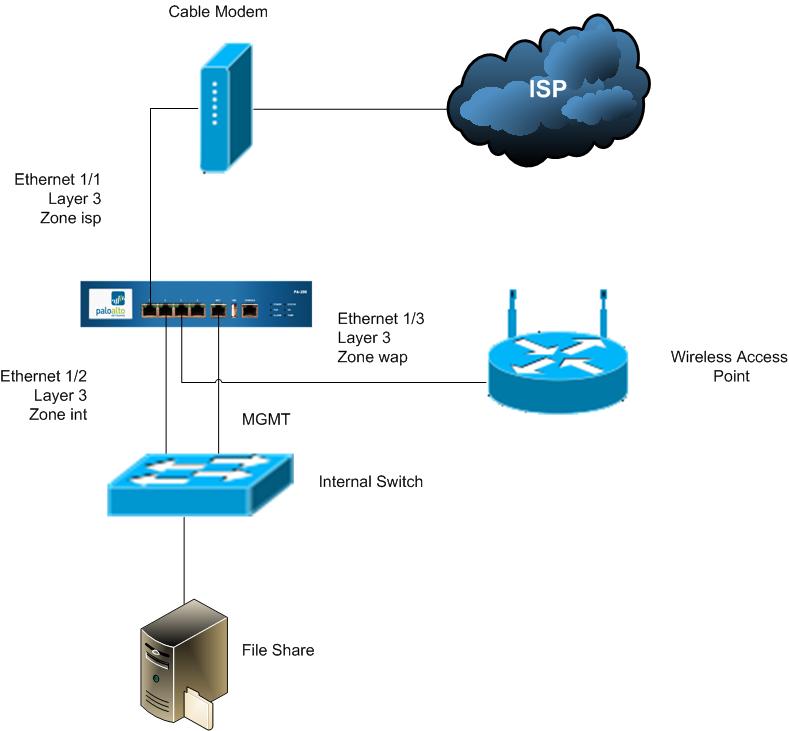 Any ideas how I could accomplish this? Thanks!

1 ACCEPTED SOLUTION
Hi Michael:
So, a few quick tips for you:
1.) in the GUI, go to Network / Virtual Routers, and place all 3 interfaces into the _same_ virtual router. You only need 1 virtual router for the entire deployment. You don't want to break up the PA200 into "multiple" routers each with their own routing table, their own interfaces, etc. If you're using static IPs from your ISP, be sure to add a static route in the virtual router that points to your ISP's router. If you're using DHCP from your ISP then this will be done automatically.
2.) in the GUI, go to Network / Interfaces and set all 3 interfaces to layer-3 mode.
3.) assign an IP address to each interface
4.) place each interface into their respective zones
5.) under Network / DHCP Server, create 2 DHCP servers, one on e 1/2 for your internal network, and one on 1/3 for your wireless network. You can use private address ranges like:
192.168.1.0/24 for wired network
192.168.2.0/24 for wireless network
6.) go to Policies / Security and create a basic security policy that says:
permit all from int to isp
permit all from wap to isp
deny all from isp to int & wap
7.) go to Policies / NAT and create a basic NAT policy that says:
if the src zone is int or wap and the dst zone is isp, then translate the source to the ISP interface address
Also, you'll want to disable the DHCP server on your wireless AP if it has one, and plug the PA200 E1/3 into one of the LAN-side ports on your WAP.
Good luck. PA200 is a nice box for a home network!