Hello Everyone,
We deploy a panorama 5.1.4 and 2 fws are managed on it, one of the fws is running PanOs5.0.8 and another one is running 4.1.14. We can see the fws normally on Panorama -> Managed devices and Templates tabs. however when I finsh a ldap-server-profile template and click commit button and select the radio Template, I could not see the fw which runs 4.1.14, but another fw could.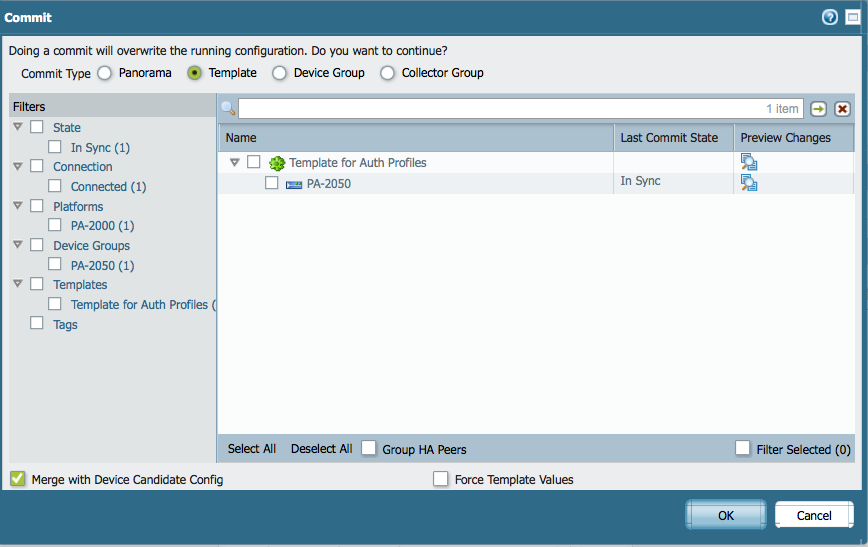 I also see the document "PanoramaAdministratorsGuide_5.1.pdf", on the page 77, the tips as below.
For firewalls running PAN-OS 4.x, the use of Panorama templates is limited to the following:
• Creating response pages
• Defining authentication profiles and sequences
• Creating self-signed certificates on Panorama or importing certificates
• Creating client authentication certificates (known as Certificate Profiles in Panorama 5.0 and later)
• Creating server profiles: SNMP Trap, Syslog, Email, NetFlow, RADIUS, LDAP, and Kerberos
So I could not find the fw running PAN-OS 4.1.14, is the normal beheavy ? or bug ? anyone knows that?
Thanks.
Joy
1 ACCEPTED SOLUTION
Devices running PAN-OS 4.1 or older does not support Template. As Steven suggested, you can create a separate template for the 4.x devices and manage 4.x devices separately from the 5.0 devices. You will need to issue a 'Device Group' commit and choose 'Include Device and Network Templates' to the 4.1 device. Thanks.