unknown-tcp going out to yahoo servers - pls update applipedia
part of my routine is looking for unknown-tcp and udp connections out. Love the feature.
For a while ive seen a good amount of unknown-tcp connections out to yahoo.com domains.
Anyone else seeing this?
PA: Are you guys looking into this so I dont ahve to screen these IPs out when I do my checks.
heres the ranges, they are all yahoo
206.190.37.0/24
206.190.36.0/24
98.138.243.0/24
216.39.55.0/24
98.138.49.0/24
98.136.223.0/24
67.195.146.0/24
Hello,
Please make sure the security policy allows all the yahoo applications as stated in applipedia or at least the ones which you are trying to access (for e.g. yahoo-mail, yahoo-finance-posting) or you have a application-any service-any policy configured.
Please refer to this blog: unknown-tcp / udp - please explain
Is there any specific yahoo-based application is not identified by the PAN FW. I saw a similar issue for SMTP.yahoo.com for port 465 which is not mentioned on the Applipedia ( Application Research Center )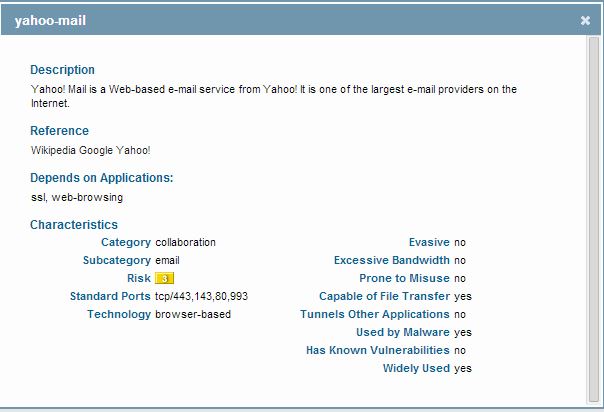 Could you please explain the issue in details, so it would be easier for us to provide you the exact answer.
Thanks