Reply
Topic Options
Mark Topic as New

Mark Topic as Read

Float this Topic for Current User

L4 Transporter
Does anyone know "flow_fwd_zonechange" and "Packet routed to different zone"???
Hello All.
I use PA-5050 , PANOS-4.0.9 , 10G Interfaces
DMZ zone has FTP Server. It work for file download service to Internet.
FTP data traffics are very slow (about 50KByte/s).
But the device is working "commit" that FTP data traffics are fast(about 10MB/s)
And FTP data traffic are slow again after commit 10 minute.
I had checked Interface count on DMZ interface and global count.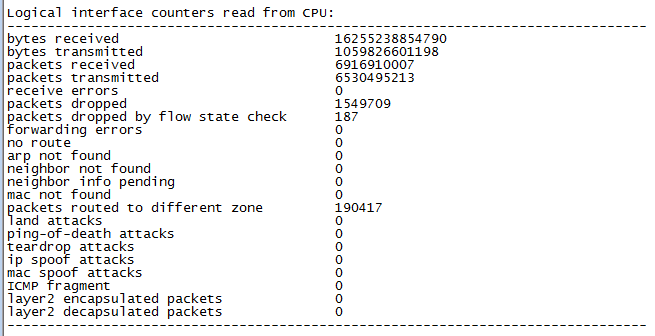 What mean are "flow_fwd_zonechange" and "Packet routed to different zone"?????
Highlighted

L6 Presenter
flow_fwd_zonechange: when packet is to be forwarded, the zone of egress interface does not match the egress zone in the session due to route change.
Did you make any configuration changes with regards to routing, natting ?
These error might pop up under global counters if something in routing configuration changed such that an existing session was to be routed out a different interface (with a different zone) and so these counters incremented.
Highlighted
L7 Applicator
Is there an open PBF rule that the session is inadvertently matching? If so, please try disabling the PBF rule or trying adding a "no-pbf" rule for traffic to/from the host at the top of the PBF rulebase.