I'd like to filter the log in order to get lines containing e.g. "BSS".
It works when filtering the description column : ( description contains 'IKE protocol IPSec SA delete message received from peer. SPI:0xAB229BB0.' )
It works when filtering the object column: ( object eq P1_012_BSS_EISEN )
It does not work when filtering with "CONTAINS" ( object contains P1_012_BSS_EISEN )
Roman
Hello Roman,
It is working as expected because when filtering Objects you have 3 options [equal, not equal and is present] and with Description you have only [contains].
Here is how you can view your available options (click on the 'plus' sign on the right hand side top corner):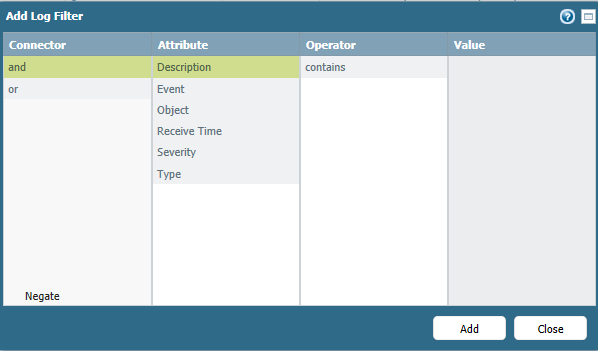 Hope that helps!
Thanks and regards,
Kunal Adak
Hello,
yes, you are right.
But it does not work like "contains". Contains is something like "Wildcard"
"contain" gives back true when searching for ABC in hjkhjkABChjkhjk
"IS PRESENT" not. You can not put a value in value column there.
So I can not look for every line starting e.g with "ABC nnnmnm" or "ABC dwwwww"
Roman