Reply
Topic Options
Mark Topic as New

Mark Topic as Read

Float this Topic for Current User
How to tune wildfire rules
I am on a PA2050 using 4.1.12 in Device/Setup/Wildfire I have Wildfire enabled. In Objects / Security Profiles / File Blocking I have rules that "ALERT" and "FORWARD" on certain file types.
My rule base for USERS connecting to the INTERNET consists of rules that allow certain AD groups access to certain PROFILES. These profiles include data filtering, antivirus, and URL FILTERING.
The problem I have is that Google Maps and Google Earth generates a very large number of alerts due to all the archives sent to the browser. Much of this traffic is determined to be ZIP by the Palo Alto. I would like to exclude Google Maps and Google Earth files from alerting on ZIPs, though I don't want to stop alerting on other Google Services.
Attached is a screen shot of this traffic. If I can figure out how to do this with Google Earth and Google Maps then there are some other platforms I would like to exclude.
Can what I ask reasonably be done?
Highlighted
Create a new security rule above the rule where your file blocking profile is currently catching the Zip files. In this new security rule, allow only google-maps and google-earth. From here, you can do a few things. 1.) you could opt not to attach any file blocking profiles to these two applications, or you could create a customized file blocking profile that does not include ZIPs.
Highlighted
Attached is a small section of my rules. These rules have profiles associated with them which include URL filtering, Data filtering, and so on. Some groups have Google Earth, Google Maps, both, or none.
If I stick a rule above all these rules which allows Google Earth and Google maps, then I'm breaking my URL filtering as the allow rule would allow this traffic regardless of what the subsequent rules state.
I would need to duplicate every single one of these rules that allow Google Earth and/or Google Maps and set the top duplicate rule to allow the platform without data filtering, correct?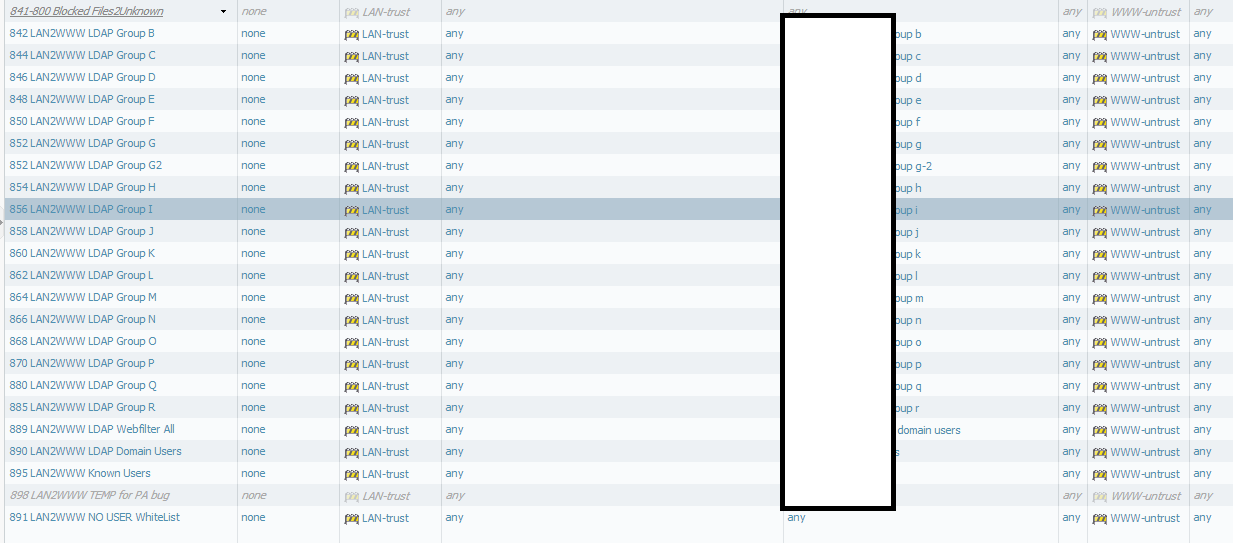 Highlighted
The file blocking profile is applied per-rule. So, if you wish to use a different file blocking policy for some apps (google-maps, google-earth) than other apps (gmail, web-browsing, ssl, anything else), then you must separate out their traffic into different rules. Yes, in your case, you could duplicate each group's security policy rule, modify the application to be goggle-maps and/or google-earth) use a different file blocking profile just for those two apps.