NFS Performance - really poor
Hello everyone,
To start, this is my first post ever and I'll try to be as complete as I can. Yes we are working with ETAC, who are very helpful. However the solution is evasive and I hope someone else in the community has experienced something similar to this. Without the PA's in the mix, NFS performance is 750-800GB/hr. No indication of CPU or interface overrun issues on the PA.
Background: Experiencing dramatic and severe performance drop off when using NFS to push large volume of data through a Palo Alto. Data transfer rate starts out at 1GB/s+ (600GB/hr) and then drops off suddenly to 20-25GB/hr. There are two instances where this does not occur: First when client is 1Gb connected and second when target server is located at Hotsite. In both cases, the traffic traverse an identically configured pair of 5060's running 5.011x code. The main difference between the two sites is in the second case traffic traverses a 2.5Gb DWDM link but NFS transfer rate is 400+GB/hr.
Topology: (vWire interface on 10GB SFP+, multimode fiber)
Pair of Palo Alto 5060 configured as Active/Active with HA3 packet forwarding disabled (i.e. no load balancing), each star below is a cluster. For the 10GB connected hosts and PA's the switch infrastructure is Nexus 7000, 5000 and 2200 series switches. 1GB connected hosts with no problems are connected to C7000, C6500, and 4948. Policy is permit anything at the moment.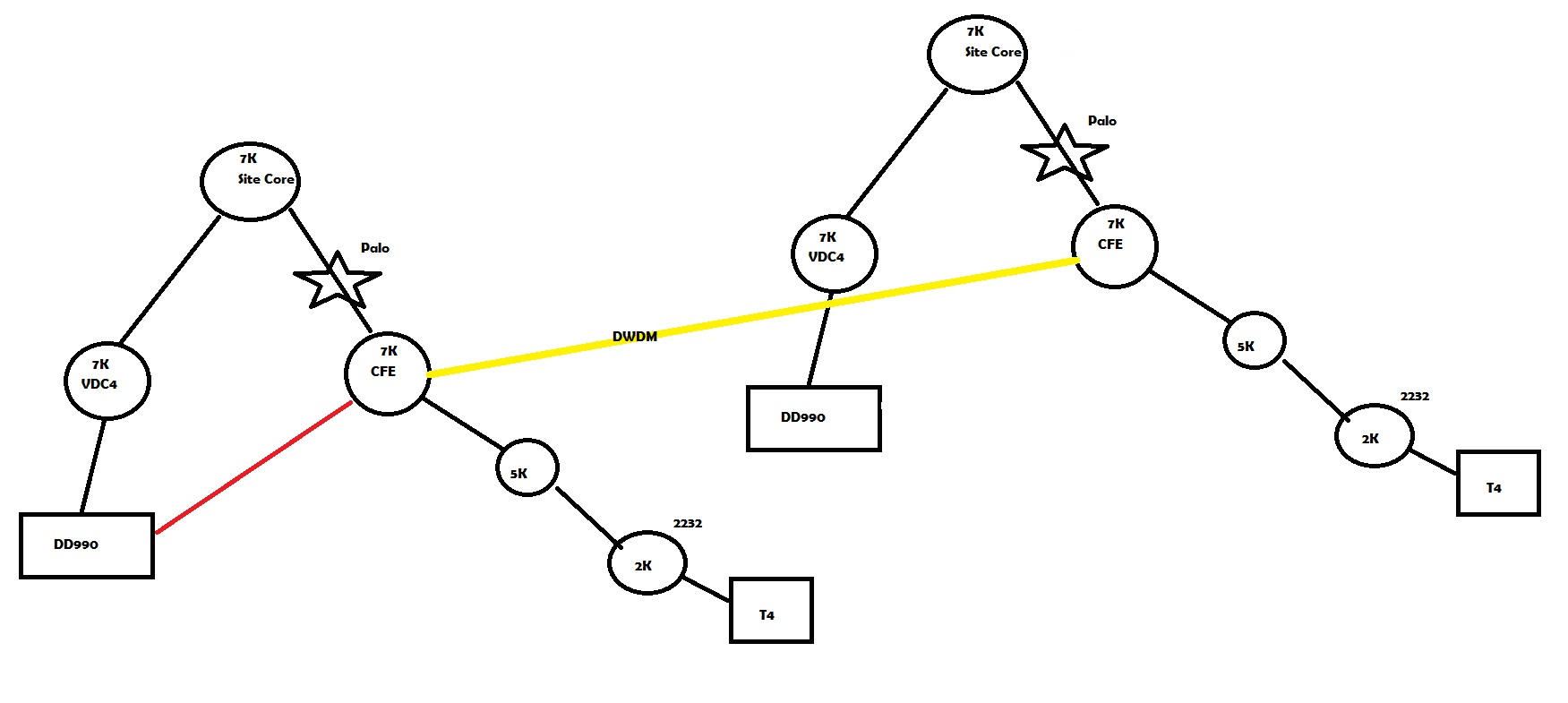 To date we have tried several approaches to resolving the issue.
- Isolated network communications to a single PA, this removed A/A from the mix. This didn't result in any performance difference.
- Set asymmetric bypass to enable
- Specific line of policy for client/server with threat protections removed.
- Network Engineer indicate no errors incrementing on switches.
- One other confusion point. When running the same test in the hotsite (right side of drawing) performance is ~450GB/hr.
Considering:
- Bypassing PA, but leaving all other network components in place.
- On the left portion of the drawing, moving the T4 link off the 2200 series FEX and connecting it directly to C7000.
Thank you in advance.