i am in the process of setting up a pan 200. i have configured the mgnt interface, 2 interfaces (1 internal, 1 external) each in there own zone and both in the same virtual router. the problem i am having is i cannot get to the internet or should i say have it pass traffic. i can ping all local devices LAN, i can ping this as the gateway on my lan, the mgnt interface. but not out the external L3 interface either by ip or dns. in my virtual router i have it set 0.0.0.0/0 next ip 70.89.96.62 (which is the gateway for my comcast circuit). i confirmed this by setting a static ip on my laptop and plugging it in to the comcast modem. i was able to get out no problem. i have the default policy that comes with the box from the factory allowing any app/port/protocol out any interface as well.
any help would be appreciated. i am sure it is something simple but i cannot find what i am missing. i can post screenshots or the config if i needed
1 ACCEPTED SOLUTION
EDSAadmin,
You will need to create a NAT rule.
Try the following. In the example, ethernet1/2 is the external/WAN interface.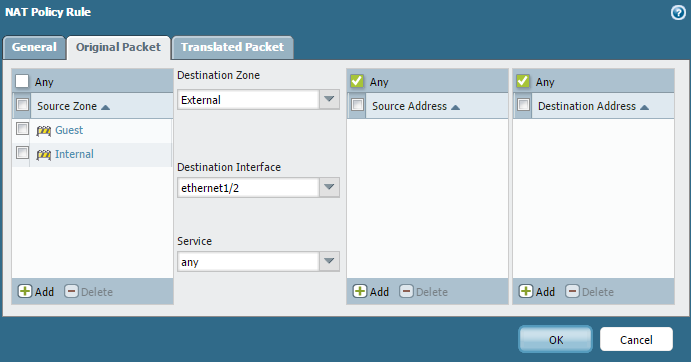 Please do not forget to mark any 'helpful' or 'correct' responses.
Thanks!