Hallo
i am setting up a new PA 3050 FW. I dont want to use the management port to connect to internet and download updates. So I am following the admin guide to "Set up an External Data Port" for updates. Now as per that:
1. I set up a port, say e1/4 on PA 3050, as an internal port in "L3-Trust" Zone and give it a static IP address 192.168.35.100.
2. I set up an external facing port, say e1/5, in zone "L3-Untrust". This port is connected to my ISP Router and has a publicly routable IP.
Where should I cable the internal facing port e1/4 mentioned in point 1 above? Can I somehow NAT the private address to use the Interface e1/5 IP address?
Thanks!
1 ACCEPTED SOLUTION
Hello Amit,
Ethernet-1/4 should be connected to your LAN segment ( there is no physical connection required between MGMT interface and L3-Trust interface) and you need a valid NAT & security policy for all outgoing traffic through L3-Untrust (towards internet).
For an Example: I am using Ethernet 1/3 -192.168.10.100( L3-Trust interface) for my service route.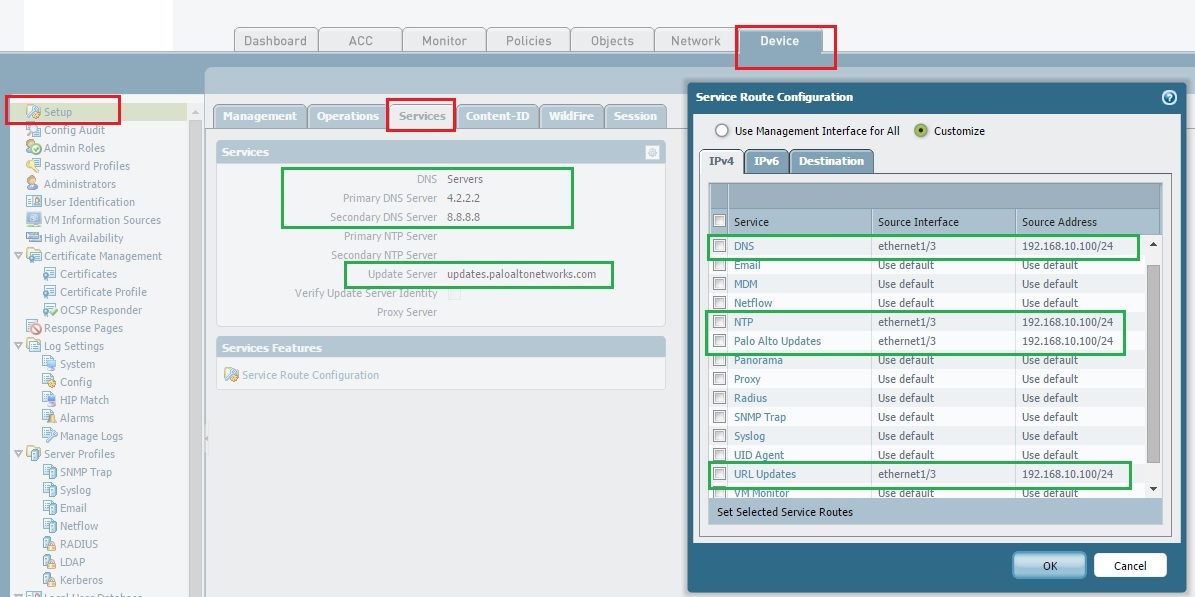 Hope this helps.
Thanks