Object Names and IP Addresses
I've run across an interesting "feature" in working with the Palo Alto system. I'm converting from the Checkpoint platform and have found a feature that I use in the Checkpoint all the time, but don't have available in the Palo Alto Panorama. If you type the IP address of an object, but that address is not part of the name, you won't be able to select it from the drop down list.
Example:
I'm trying to add an object to the source address field by typing it's IP address: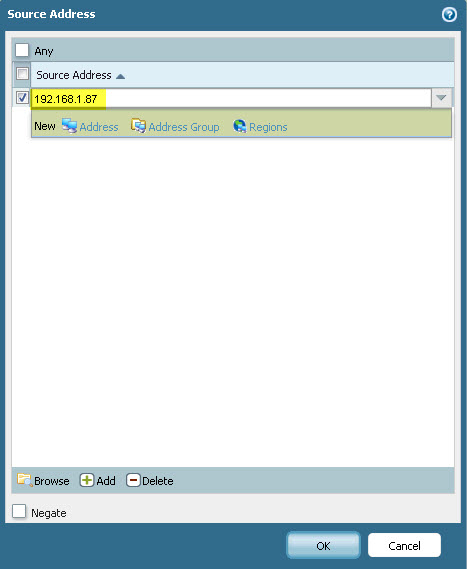 No objects show up in the selection box. The selection box appears to be name only.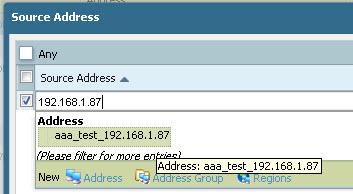 Adding the IP address into the name of the object allows me to be able to select it from this box by typing the IP address (or any portion of the address).
Are there plans to add this feature to the product or are there other ways to work around this minor inconvenience?
Instead of the 200ms between lines, have you tried enabling scripting mode?
admin@black_knight(active)> set cli scripting-mode
off off
on on
admin@black_knight(active)> set cli scripting-mode on
This has alleviated issues (for me) when pasting large amounts of config data into the firewall. From what I've been told, this will increase the input buffers and disable command completion. From here you can go into configure and paste your configuration changes/additions. I did this with about 4000 lines at a time during the last week and didn't have to add any delay between commands.
Once you've pasted the config & exited configuration mode, you can use "set cli scripting-mode off" to return the CLI behavior to its defaults... either that or logout/login. Don't forget to commit.