One-to-One NAT - DMZ to inside - how do I make it work?
Folks.
I'm apparently having a particularly stupid day, because I can;t make something as simple as one-to-one NAT work.
Scenario is this.
I have an IP in my DMZ. I have assigned this IP to a particular server which is hosted on my INSIDE (secure) network.
All I want to do is take this IP address and NAT it to the inside address. Something like this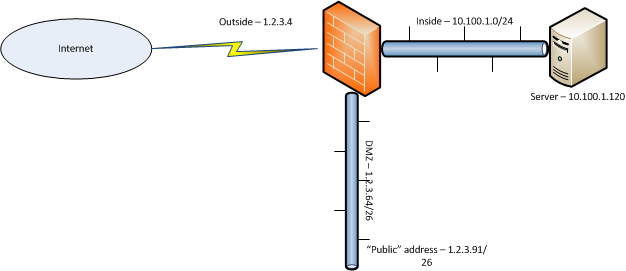 IP addresses have been changed to protect the stupid (me!).
So - request comes in from the web to 1.2.3.91, and I want to redirect it to 10.100.1.120 - only needs web browsing and PING.
but I can not, for the life of me, get it right.
I've got the following NAT rule
Original packet
Source Zone - Outside
Destination Zone - DMZ
Source Address - Any
Destination Address - 1.2.3.91
Translated Packet
Source Translation : None
Destination translation : 10.100.1.120
The security policy is as follows
Source : Outside
Source Address : Any
Destination : Inside
Destination Address : 10.100.1.120
I'm happy for anyone to point out where I'm being stupid and laugh at me - I know it's something obvious, but I'm banging my head trying to sort out what.
thanks