Hello
I have new tas - make VPN s2s between PA200 and Mikrotik router.
PA (PA 200 on 6.1.4) has Advanced phase mode 1 optios set to AUTO and "anable passive mode" not checked
Mikrotik (751U-2HnD with latest 6.30 router OS) is in aggressive mode.
It's quite simple task, few policy rules on PA and on Mikrotik side. Configuration similar to PA<>Cisco.
I got strange resoults, everything seems to be OK.usually tunnel is working, hosts on both sides could ping each other, but ...
sometimes doesn't.
example 1: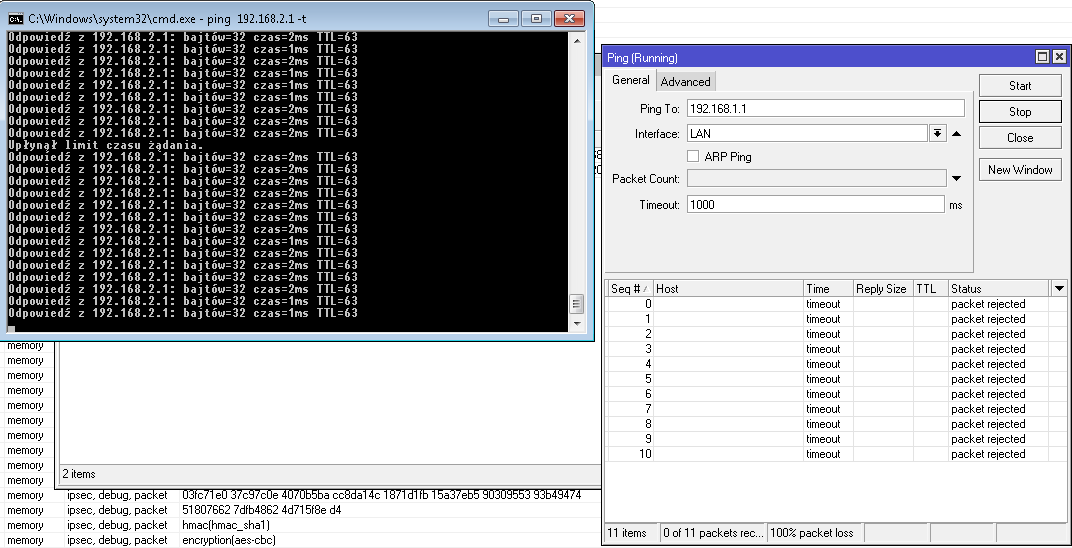 I'm able to ping from A side to B, but not from B to A (packed rejected)
example 2
Side A pinging side B, ping from B to A doesnt working UNTIL I stopped ping from A to B
example 3
Mikrotik shows Installes SAs:
Is it normal that on PA side Auth is none and Enc Algoritms is none?
Has anyone any idea whats going on?
At the moment (about 5min later than I created screenshots above) Ping from B to A started working - is it kind of mystery or what?
Help me please
Hello
In daily report I got:
Device SN Virtual System Rule Bytes Sessions
001606004XXX vsys1 VPN-s2s-local-networks 1021.08 M 129.84 k
It's mean that security rule that allowing traffic between A and B transfered ~1GB and generates 130000 sessions. Thats pretty much sessions - why?
I used TotalCommander to upload and download 2,4GB ISO files, so I genereated more than 5GB traffic I think.
Second problem, using ping from A to B gateway I got aroung 10-17% loss of ping packet - is it normal?
Regards
Slawek