Hi All,
I'm just trying to configure decryption. because I'm facing Issue while blocking applications(not all the applications got blocked as the policy supposed to do).
First of all, I'm using Trusted CA, and here you are the steps I followed To generate MY certificate.
1.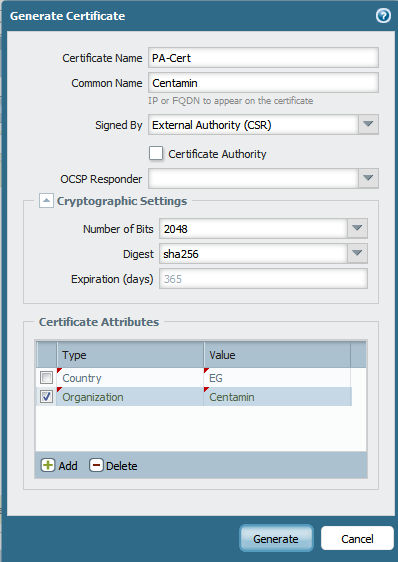 2. then I uploaded that Certificate to the Trusted CA, and then I got a signed Certificate.

3. I configured a Decryption Profile as below.
4. then I created the decryption policies as below

but finally while I'm trying to commit the Configuration I got the error vsys1 decryption: forward decrypt trust cert is not configured
I don't know what's wrong with that, also does my configuration is correct, or I'm going the wrong direction.
Regards,
Maher
1 ACCEPTED SOLUTION
A certificate signed by CA can be used for
Captive Portal ("CP") pages
Response Pages
GlobalProtect ("GP") Portal
How to Install a Chained Certificate Signed by a Public CA
When using ssl decryption you cannot use a system that a client will not get a ssl warning (wihtout importing the certificate to the client).This is why ssl is safe.
if it is used for SSL decryption, it should be CA certificate.