Reply
Topic Options
Mark Topic as New

Mark Topic as Read

Float this Topic for Current User
email (or other?) alert for failed updates and downloads
Is there a way to configure an email (or other alert?) to be sent when updates and/or downloads fail? I want to be sure my system is kept up-to-date and the system should be able to tell me when an update check, download, or update install has failed...or succeeded for that matter.
Thanks,
Mike
Highlighted
Hello Mike,
We don't have a way of specifying a particular event (updates and/or downloads fail) for which the PANFW should forward the email notification for. As a workaround, you can create an email alert profile How to Configure Email Alerts for System Logs?
for a specific severity. That way you are still sending out the email notifications, at the cost of sending extra email notifications of other SYSTEM logs as well for same severity( which by the way is a good practice) :smileyhappy:
Hope this helps.
Thanks
Highlighted
Hi Mike,
Its possible to send all syslog messages via email, which also contains information on success/failure of dynamic updates. But its all logs, not just dynamic update log.
Please follow bellow instructions.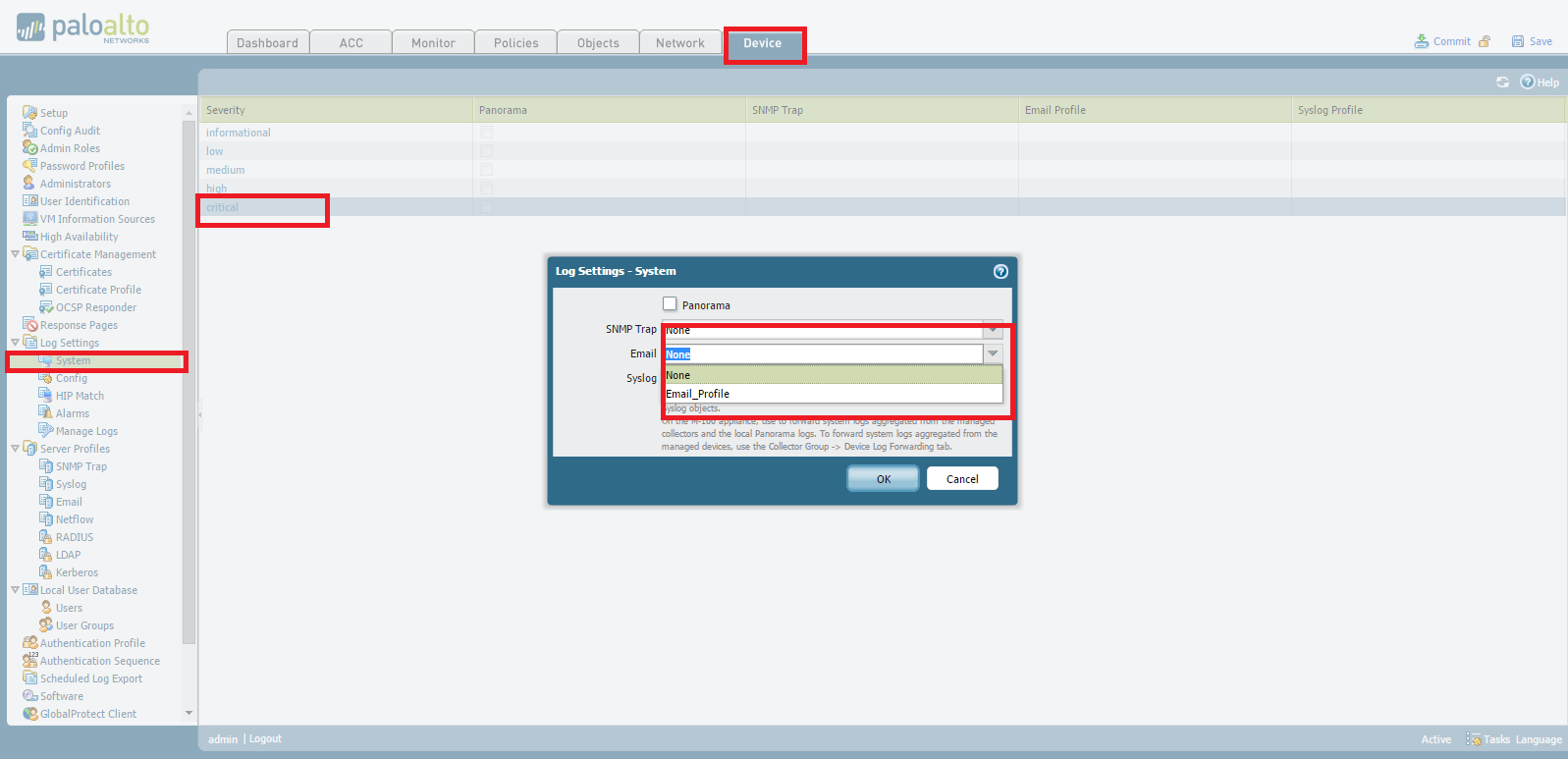 To avoid flood of system log, you can forward system logs to syslog. And from syslog just forward those specific logs via email or SMS. New syslog server provides lots of configuration options.
Regards,
Hardik Shah
.
Highlighted
I've configured the logs to be emailed - what would the severity level be for a failed or successful update, download, and install?
Also, I'll submit a feature request to add alert capability for this...although it's a little stupefying to have an "enterprise firewall" system that relies so heavily on continuous updates lacking the capability to alert/notify admins if updates are successful or not.
Mike
Highlighted
Hello Mike,
FYI. Dynamic updates would be "medium" severity logs.

Thanks
Highlighted
Hi Mike,
Its medium sev. Its a good idea to have that feature, it would be easy for admins to get an update. Still you can do the same from syslog server, obviously it needs some work. :smileyhappy:
Regards,
Hardik Shah