Reply
Topic Options
Mark Topic as New

Mark Topic as Read

Float this Topic for Current User
Highlighted
Hi everybody,
we got a lot of syn-packets which were dropped by the rule any-allow. But we haven't this rule, so is it a inbuilt rule and
why do i need a DoS-Rule to be protected against Syn-Floods if there is a builtin rule.

Cheers klaus
Highlighted
So it should be a bug.
Maybe restarting some services will solve this but I can't say you'll not see same behaviour then, or not.
Best; I advice an upgrade to 5.0.11
Highlighted

L7 Applicator
Hello Sir,
Do you have a DOS protection profile configured on your PAN firewall..? As per my knowledge, PAN is not having such inbuilt rule on it. Could you please expand the session details as mentioned below and update here.

Thanks
Highlighted
did you check zone protection ?
if no zone protection or dos protection is used then better to open a case.
Highlighted
L3 Networker

Maybe you have flood protection turned on in a network profile? That might do it.
Mike
Highlighted
L4 Transporter
Hello kdd,
From the description we see that the inbuilt rule has taken charge. What we will have to look is at the time of issue did we see any DOS or zone protection profile counters triggered.(If they are configured )
This can be seen by " less dp0-log dp-monitor.log" Also we can check the commands to see the triggers for the syn flood
show dos-protection rule <rule name>
show zone-protection zone <zone name>
Example for Dos counters:
Highlighted
Thx for your comments.
to make it more visible and comprehensible what the zero point is:
- log entry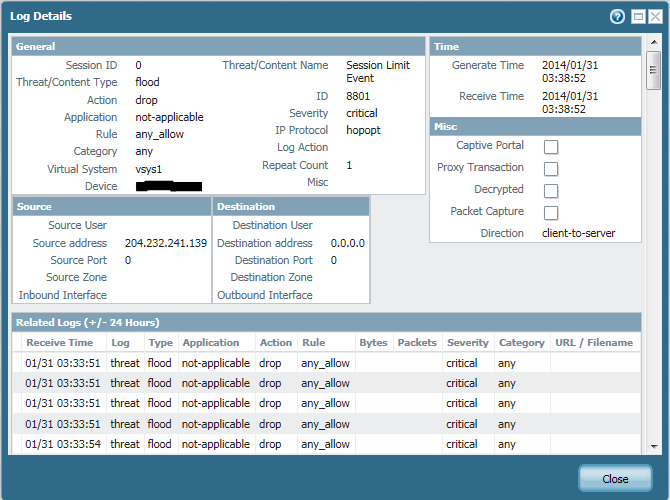 - DoS rule
- DoS protection profil

- DoS global counters

what i understood so far is that there seems to be a inbuilt rule which was taken in advance because the limitation of our own DoS-protection rule isn't as narrow as the default
where can i get information about the settings of the any-allow rule ? it sounds also strange to me to call a rule any-allow and then drop the packets. anywhere,
but there should be a clue to the inbuilt rule
Highlighted
Since it says "Session limit event" and your rule name is different, this is not normal.
What os version you are using ?
Highlighted
I am not sure if this is an unlisted bug but if you have time to upgrade it will be better.
There are some Dos related issues (49337—Traffic was blocked even though the DoS Protection policy was configured to allow it. - but written that fixed with 5.0.5)
Have you ever used "any_allow" name for a rule ?
Highlighted

yes, as we started with new zones there was a "any-allow" rule but not yet