Trust to DMZ (Zone to Zone) Security Policy Failure...
If an expert could please take a look at a test DMZ zone I'm trying to configure on a PA-500 with OS 5.0.8 and tell me where I've gone wrong I'd appreciate it!
I realize it's wide open at the moment, but it's just for personal testing/understanding purposes.
DMZ Interface:
Static Route:


Test NAT (should be irrelevant for this internal test):

Test Policies:
CLI Policy Test (Source = My workstation IP):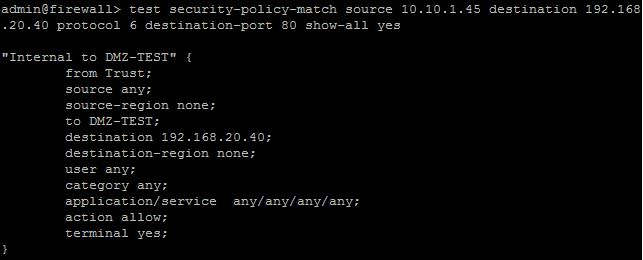 Ping Test from my Internal (Trust) workstation to a statically set Windows 7 box connected to the DMZ-Test zone:

Ping Test from DMZ-Test box to Internet: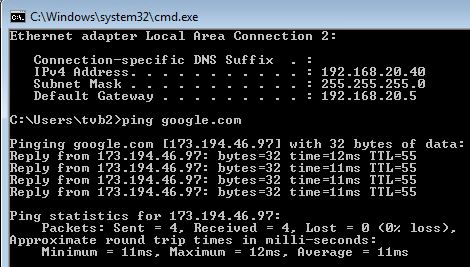 What virtual router is the trust interface in?
I suspect your trust interface is in another VR that does not have the route to the Holland vr.
Steve Puluka BSEET - IP Architect - DQE Communications (Metro Ethernet/ISP)
ACE PanOS 6; ACE PanOS 7; ASE 3.0; PSE 7.0 Foundations & Associate in Platform; Cyber Security; Data Center
Hey Steven,
I ultimately figured out that I was having an asynchronous traffic issue.
Intra-VLAN routing was taking the internal traffic directly to the DMZ VLAN, and on the return trip it was coming through the firewall, which resulted in some bizarre behavior and had a few engineers scratching their heads for a minute. Shutting down the VLAN routing solved the problem.
Thanks for the reply anyway!
Tom VB
Yes, asymmetrical routing will cause all kinds of headaches. Glad you have it worked out.
Steve Puluka BSEET - IP Architect - DQE Communications (Metro Ethernet/ISP)
ACE PanOS 6; ACE PanOS 7; ASE 3.0; PSE 7.0 Foundations & Associate in Platform; Cyber Security; Data Center