TS Agent 6.0.3 on Windows Server 2012
Hi all,
this is my environment:
PA3020 PANOS 6.0.2
3 Terminal Servers running on Windows Server 2012 R2 Datacencer, each one having PA TS Agent 6.0.3-8 onboard.
Documentation states that Windows Server 2012 is supported by TS Agent starting from 6.0.2, it's been a very long time I was waiting for this, till now I've tried previous versions of TS Agent in compatibility mode but the issue was that logged-in user traffic was generated from System Source Port Allocation Range instead Source Port Allocation Range althoug logged-in users were apparently assigned with correct source port ranges.
Now that I moved to TS agent 6.0.3 I was hoping to solve but I'm in the very same situation: logged-in user traffic is being generated from System Source Port Allocation Range instead User Source Port Allocation Range
Let's have a look to my TS agent configuration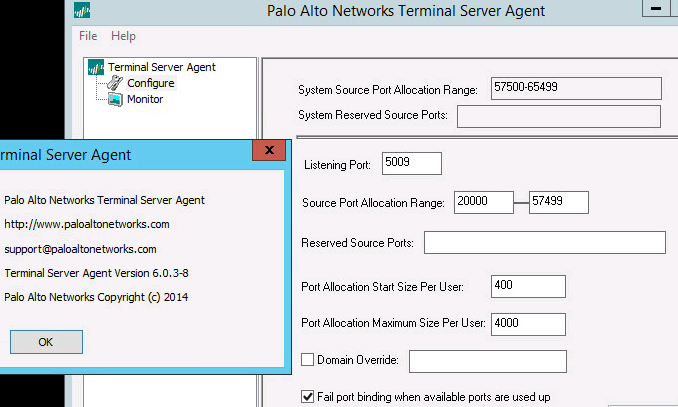 It should be as best practice is suggesting.
And here you can see the correct user-portrange mappings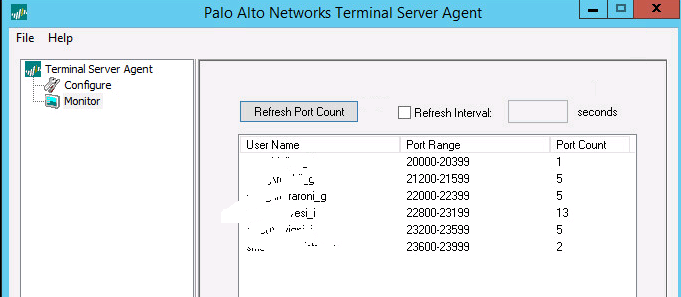 Unfortunately only a little bit of logged-in user traffic comes out from assigned port ranges, but most of all it comes from system allocated ports

I've successfully shrinked the System Port Allocation Range with commands netsh int <ipv4|ipv6> set dynamic <tcp|udp> start=number num=range hoping it'll have reduced the chance the traffic would be sourced from those ports but still no way to obtain the purpose and most of sessions originate from system range...
Please note that none of the users are logged in with /admin option.
Is there anything missing/wrong?
Thank You