Hi,
when creating a profile choosing block action is seen as "reset-both" on the logs.
is that normal behaviour or not ? Thanks.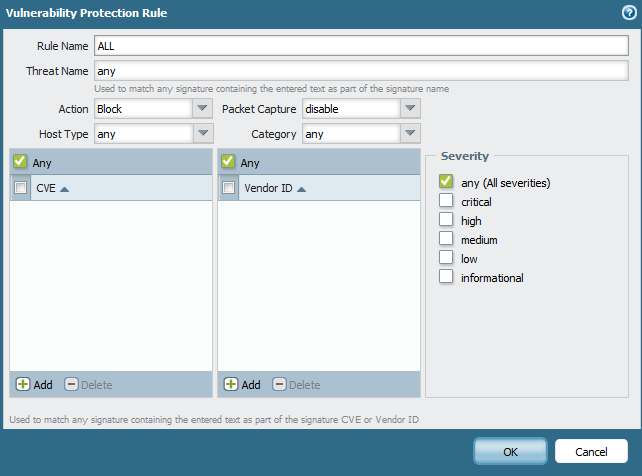 1 ACCEPTED SOLUTION
PA should probably update the help file for these vulnerability options. The wording is ambiguous and I assume that block was a drop and not a reset action.
Choose the action (Alert, Allow, Default, or Block) to take when the rule is triggered. The Default action is based on the pre-defined action that is part of each signature provided by Palo Alto Networks. To view the default action for a signature, navigate to Objects > Security Profiles > Vulnerability Protection and click Add or select an existing profile. Click the Exceptions tab and then click Show all signatures. A list of all signatures will displayed and you will see an Action column.
Steve Puluka BSEET - IP Architect - DQE Communications (Metro Ethernet/ISP)
ACE PanOS 6; ACE PanOS 7; ASE 3.0; PSE 7.0 Foundations & Associate in Platform; Cyber Security; Data Center